Farhanís brother act
Subhash K. Jha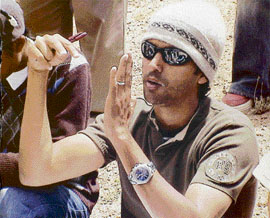 Farhan Akhtar had earlier played the lead role in The Fakir of Venice.
From the time he made that feisty feel-cool film about three urban dudes called Dil Chahta Hai to his surrealistic take on the Amitabh Bachchan blockbuster Don, Farhan Akhtar has never ceased to surprise.
Farhan has agreed to play the lead in his sister Zoya Akhtarís directorial debut Luck By Chance. This is probably the first occasion when an established filmmaker would star in his sisterís directorial venture.
"Yes, Iím Zoyaís leading man. I donít know how it happened. But it has happened. Iím putting on hold my next directorial venture Voice From The Sky to star in Zoyaís film," Farhan said.
Zoya, who has been struggling to put together her directorial debut for the past two years, has decided to put aside Kismat Talkies featuring Hrithik Roshan and Kareena Kapoor, which she had decided to make earlier.
"For now Kismat Talkies isnít happening. If you remember, Luck By Chance is the film Zoya had decided to make initially. Sheís back on that project. We start shooting in March 2008."
Interestingly, Luck By Chance is set within the film industry.
It would be the third major film from Bollywood on Bollywood after Farah Khanís Om Shanti Om, which is set in the 1970s and Sudhir Mishraís Khoya Khoya Chand, which focuses on the 1950s era.
Zoyaís Luck By Chance will be a more contemporary take on the industry.
"Itís my second starring role. Iíve also played the lead in Anand Surapurís The Fakir Of Venice." Farhan was supposed to play a role in his talented associate Reema Kagtiís Honeymoon Travels Pvt Ltd, which eventually went to Abhay Deol. He couldnít do it because at that time he was busy with Don.
Bengali director Rituparno Ghosh was supposed to cast Farhan as Shabana Azmiís son in a film.
"I donít know whatís happened to that project. But for now Iím looking forward to my acting in my sisterís film," said Farhan. ó IANS