Kaka's second innings
Karan Kapoor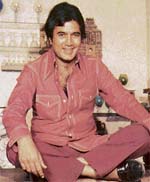 Rajesh Khanna is aiming to make it big in the second innings of his film career. Starring in Kaash Mere Hote, Khanna says, "My role in the film is unusual. I hope my audience would bestow me with the same love they gave me in my first innings," says Khanna.
Music director Shravan is the song director of the film. Kumar Sahil of Ludhiana play's the lead role in the film. "We call Sahil the Prince of Ludhiana. And, if he becomes tomorrow's superstar, it's not just Ludhiana and Punjab, but the whole country which will be proud of him," said Khanna.
"Punjabis are a hit, and have ruled the Hindi film industry. With their emotions and talent, they have entertained people and made them laugh and cry," he added.
Commenting on the change in Bollywood, Khanna said: "Young directors and technicians with their latest equipment are as good as Hollywood. The only thing missing is the 'soul' in screenplays. I want them to work on good scripts."
Khanna has eight more films in the pipeline, out of which three are near completion and are likely to be released in two months.
Bollywood's first officially acknowledged 'superstar', shot to fame with the 1969 film Aradhana.
In the early 1970s, Khanna appeared in many romantic films and melodramas, where he was often paired with Mumtaz or Sharmila Tagore. Some of his most successful films in this period included Anand (1970), Amar Prem (1971), Andaaz (1971), Bawarchi (1972) Daag (1973) and Namak Haraam (1973). He also appeared in Aa Ab Laut Chalen (1999) Kyaa Dil Ne Kahaa (2002) and Jana (2006). — ANI