Hallowed learning ground
There is a lot to the Sector 16 Cricket Stadium besides Kapil Dev, Yograj Singh, Chetan Sharma and Ashok Malhotra. All these players sharpened their skills here and toiled to make the country proud.
Little Master was stumped by it
"It is, perhaps, the most picturesque cricket stadium in India," is how Sunil Gavaskar, a cricket legend and now a commentator described the Sector 16 Cricket Stadium during his last visit here 14 years ago.
Lucky for Azhar
The Sector 16 stadium has played host to four ODIs and one Test match so far.
The rise, the fall and the rise
In early 1960s, it was a simple ground surrounded by big trees at the south end. Kids used to frequent the ground to play cricket.
Bhajji that was
Harbhajan Singh was extremely shy and could hardly utter a word or even make an eye contact when he was first brought to the academy," reminisces Desh Prem Azad, former project director, Pace Bowlers Academy.
Ball in your court now
As the "lions in blue" take to the crease for tackling the kangaroos in a "do-or-die" match Monday morning, cricket buffs across the city too have padded up. And, are all set to leave behind the pavilion of their houses for unmatched performance off the field.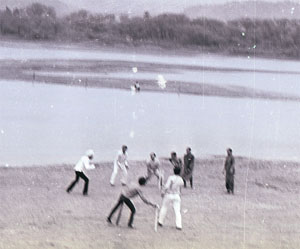 In June 1995, Sukhna Lake in Chandigarh converted itself into a hard top which allowed Team Bhatti of Nonsense Club to have a ball. Legend has it that water rose soon after and washed away the second match in the series...
— Photo by Karam Singh
SLEDGEHAMMER
Don't burst that vein...
Sledging is a part of cricket. WG Grace did it. Once given out leg-before, he refused to walk and told the bowler: "They came to watch me bat, not you bowl". And the innings continued.
Just the beginning for my son: Yograj
Yograj is a hard taskmaster and believes in getting things done by way of sheer hard work and dedication. He will never rest on his laurels, more so when it concerns his prodigal son Yuvraj Singh.
Ice ice baby
Unbeknowest to the majority of the cricketing world, strange things are afoot in the tiny country of Estonia. Here, for the last three years, the Estonian National Cricket Association has been organizing Ice Cricket Tournaments. Ice Cricket is …hold your breath…Cricket played on Ice!



What India need to do
1. The Big Three must fire
2. In the middle overs, the bowlers have to be very miserly
3. Field like the devil. Like the man in this picture, Australian Andrew Symonds