M A I N N E W S
Blueline gets bloodier, kills 7
Tribune News Service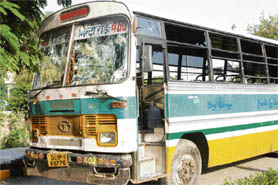 Seven persons, including five women, were killed by this Blueline bus in South Delhi on Sunday. The bus plying between Badarpur and Minto Road lost control and ran over people crossing a road. — Tribune photo by Manas Ranjan Bhui
New Delhi, October 7
Seven persons were killed and 10 others were injured today after a speeding Blue Line bus ploughed into a crowd waiting for a bus in the Badarpur area of South Delhi this morning.
One person succumbed to his injuries on his way to AIIMS, whereas five women and one child died on the spot. Nine persons sustained injuries in the accident and have been admitted to AIIMS and Apollo Hospital. The Blue Line bus was plying on route No. 460 between Badarpur and Minto Road.
According to the driver of the bus, the accident happened due to brake failure. However, witnesses had turned down this excuse. "We cannot say anything yet, the bus was declared fit in the certificate," said police PRO Rajan Bhagat. "It can only be verified after a mechanical inspection."
"The injured have been admitted to hospitals. The driver lost control over the bus and rammed it into the crowd," said deputy commissioner of police Anand Shukla. "We have arrested the driver and we assure people that the guilty will be punished."
The residents of the area became furious and came out on to the streets causing a heavy traffic jam on the Delhi-Agra road. Several agitators were injured after the police resorted to a lathi charge and lobbed teargas shells to control the situation. The driver was also beaten up in the process. "The driver has sustained some injuries. We have shifted him to the Safdarjung Hospital," said Rajan Bhagat.
Security has been beefed up in the area and the DCP has appealed to the residents to maintain peace. The incident has put the total death toll in accidents involving Blue Line buses to 93 this year. Transport minister Haroon Yusuf announced an ex gratia of Rs 1 lakh each for the kin of the dead.