M A I N N E W S
Uri: Aftershocks continue
Ehsan Fazili
Tribune News Service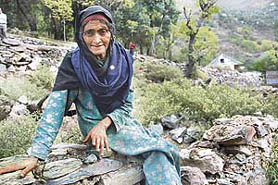 An earthquake survivor sits over a damaged house at Dachi in Uri, some 120 km near Srinagar, on Sunday. Most of the villagers are still in their make-shift tents after the large-scale devastation that had taken place in the October 8 earthquake. — Tribune photo by Mohd Amin War
Uri, October 7
Rehabilitation after October 8, 2005, quake is still a dream for thousands in Uri sector of Baramula district and Tangdhar sector of Kupwara district, close to the Line of Control (LoC) in north Kashmir.
Authorities in Jammu and Kashmir say all quake-affected persons were comfortable with the infrastructure development, but much needs to be done for education and public utility sectors. Officials claim that 60 per cent of the houses were complete while the remaining 40 per cent are being completed by people.
Fatima Begum's family is not in a position to complete a house on the land provided by the government at Bela near Boniyar. Land on the foothills of pine trees separated by a link road had been demarcated for over 100 displaced people from villages of Kamalkote and Salamabad near Uri. Fatima's husband, Ishtiyaq, a government employee posted in Kupwara district, finds it difficult to make ends meet. "We were not given any relief and were shifted here and asked to make the house", said Fatima whose second daughter (of her four children) is appearing in the matriculation examination later this month. "My parents have helped me erect this small structure", as she points out to her house, awaiting to make it liveable.
The government had claimed help of Rs 650 crore as a special Central package to rehabilitate the quake affected. Relief would have helped us construct the house. "Hamein yahan veeranein mein chhod diya gaya hai", she laments. Fatima and her neighbours like Ferozuddin - displaced from Isham near Uri, fear social problems at such a secluded place. "We would have been safe in our village", said Ferozuddin, who was among the 20 villagers who had migrated to this place.
Abdul Kareem, a labourer, passed away due to "stressful life and constraints" recently, leaving behind his wife, Raqeeda with five minor children. "She did not get any relief cheque like many others' laments her neighbour, Abdul Aziz.
Mohammad Haroon, who also shifted to Bela, has been crippled following injuries in legs in house collapse due to quake. He was promised a apartment for a shop in the locality to earn livelihood, but it was cancelled.
Residents of migrant colony at Bela await allotments of plots for the construction of houses. They also face problem of timber and livelihood to construct houses, though the relief paid by the government has been spent on making ends meet.Power supply and drinking water are, however, much to the expectations of residents "without means of livelihood and jobs".
Construction of 310 permanent houses at Dachi village near Uri across the Jhelum, is yet to be accomplished under the rehabilitation programme. It is located across the Jhleum near Uri hydel project near Salamabad. The residents are being provided with four-walled concrete structure and CGI sheets for roofing. Of the 310 houses, only 100 households have shifted to new places of dwelling. A community hall at the entry to the village and the government boys middle school at its centre, indicate change, though the incomplete houses present a sordid picture.
"We still reside in sheds", says Mohammad Lateef of Dachi. They await supply of timber for roofing, as many households had been provided with CGI sheets for the purpose. Relief cheques had been paid on time, but were not utilised to construct houses and spent in supporting families. "Those who could not get carpenters and masons could not shift to their new places and continued to live in the shelter sheds provided after the tragedy. "Our houses in Sokad and Dachi villages are of the European type while other adopted villages like Uroosa (IAF), Chundoosa (Army) and Kamalkote (CRPF) have come up very well", said local MLA and minister Taj Mohiuddin.
"The government has also failed to provide jobs despite assurances", said Mohammad Lateef. He adds that 49 youths of the area had been selected for recruitment in the CRPF, but rejected for want of OBC, which is not applicable to the area. This was an excuse to adjust youths of other areas, the residents claimed.
There was no improvement in the infrastructure, laments Kafeel-ur-Rehman, second time National Conference MLA from Karnah. "The houses have been reconstructed by the people on their own", Kafeel said. Damaged schools in the Tangdhar area had not been repaired as yet. "Whatever infrastructure existed has been provided in the NC rule from 1996 to 2002", he asserted. Education suffered the most affecting over 10,000 students, whose schooling continues in the open, Kafeel said.
Three temporary wooden sheds of 10x12 feet size, two of these conjoined, with two blackboards each erected on an easel, over coir mats spread on the soil beneath pass for a school. "By end of November the school will be closed", said the teacher, due to the lack of accommodation.
None of the 105 damaged schools has been reconstructed in Tangdhar,laments Kefeel-ur-Rehman, MLA Karnah.