Wednesday, October 10, 2007, Chandigarh, India
Updated at 3:00 am (IST)

We'll wait for India to talk: IAEA chief
Mumbai, October 9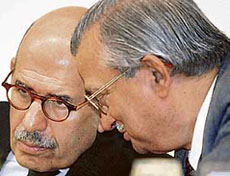 Mohammad ElBaradei, director-general of the International Atomic Energy Agency, today held a meeting with the chairman of the Atomic Energy Commission, Dr Anil Kakodkar.
UN atomic energy chief Mohammed El Baradei (left) listens to Indian Atomic Energy Commission Chairman Anil Kakodkar at a function at the Advanced Centre for Treatment, Research & Education in Cancer (ACTREC) in Mumbai on Tuesday. — AFP photo


Find solution: Allies


In video (56k)

Chinese incursion into Bhutan worries India
New Delhi, October 9
The latest diplomatic bugbear from Beijing to New Delhi is China's incursions into Bhutan, a country whose foreign policy is by and large run by India.
Central rule in Karnataka
New Delhi, October 9
Karnataka was tonight brought under President's rule after collapse of the JD(S)-BJP coalition government with a Presidential proclamation that kept the state Assembly in suspended animation.

Edit: The only way