THIS ABOVE ALL
Requiem to Dom Moraes
Khushwant Singh

Dom Moraes died of cancer over three years ago on June 2, 2004. He was buried in the Sewri Christian cemetery in Mumbai. He had never been a practising Christian. Though he was born in Mumbai and was as dark as a Goan Indian, he regarded himself an Englishman, spoke no Indian language and wished to be buried in the churchyard of Odocombe, a tiny village in Somersetófor the simple reason that one Thomas Coryate, who belonged to the village, had in the 17th century walked all the way from England to India and died in Surat, where he was buried.
Dom and his lady companion during the last 13 years of his life, Sarayu Srivatsa, went to Odocombe to collect material on Coryateís background to write his biography.
Dom published 10 collections of his poems and 23 books in prose on his travels to different parts of India and the world. He was rated the first among Indian poets writing in English. I found his poetry beyond my comprehension but read all his other books as I regarded his prose as good, if not better, than any written by his contemporaries. Somehow, I had missed out his last book written jointly with Sarayu Srivatsa, Out of Godís Oven: Travels in a fractured land (Penguin-Viking).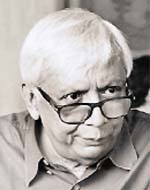 Dom: Master of prose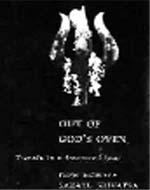 It was published in hardback five years ago. I read its paperback edition published recently. That is my excuse for writing a second requiem to Dom (or Domsky, as he was known to his friends). I also knew his father, Frank Moraes. The father and son were close to each other as Domís mother became violently insane and died in a lunatic asylum.
I befriended Dom from his years in Jesus College, Oxford. He often visited me in London. I stayed with him and his then wife, the beautiful actress Leela Naidu, in Hong Kong. Both visited me frequently in Delhi.
Dom was a complex character. He disliked everything about India, particularly Indians. The only exceptions he made were good-looking women he took to bed. Yet his description of the Indian countryside, the heat and dust-storms of the summers and the monsoons are lyrically beautiful. His characters come alive. Despite his ignorance of Indian languages, he was able to comprehend what they were saying in their dialects and in Indian English. He was not choosy about his women: if any was willing, he was ready to oblige.
He is said to have married three times. His second wife Judy bore him a son. I donít think Dom paid for his education. I am not sure if he had civil or church weddings and court divorces. In any event, he did not pay alimony to any of his women. He never earned enough to do so. It appeared that the only real love in his life was Sarayu Srivatsa. She was visibly shaken by his death.
Sarayu is a Tamil Brahmin married to a Punjabi and mother of two children. When David Davidar of Penguin-Viking asked him what he found in his new lady friend, Dom replied in his usual style: "She has such big boobs." There is more to Sarayu than her shapely bosom. She thinks like him, writes in the same style and adored him. She was his soul mate.
Like his father, Dom was a heavy drinker. At the best of times he spoke in a low mumble, hard to understand. I asked Mrs Gandhi, whom he interviewed many times to write her biography, if she understood what Dom was saying. She beamed a smile and replied: "No, Leela Naidu translated it for me". After she read Mrs G, she snubbed Dom for a few words of criticism he had written.
Because of his love for the bottle, Dom could not be depended on for meeting his deadlines or sticking to the subject on which he was commissioned to write. Ram Nath Goenka of The Indian Express sacked him because instead of going on his assignment in the North-East, he spent his time in a Calcutta hotel drinking and in the company of a lady. His friend R.V. Pandit fired him for drinking in his office in Hong Kong. The Times of India appointed him Editor of a magazine they intended to bring out. They fired him before the first issue came out. He vent his spleen on poor Prem Shankar Jha, who was appointed in his place as Editor, by grabbing him by his tie and asking him: "Fatty boy. What do you know about journalism?"
I got him an assignment from Dempos, shipping magnates and mine-owners of Goa. Dom produced a highly readable book on Goa without mentioning the Dempos. I had to add four pages on the family. He was commissioned by the Madhya Pradesh Tourism Department to do a book on the stateís historical sites. He did a memorable job on the beauty of the landscape and its tribal women without bothering about historical sites. Dom never allowed facts or the truth to stand in the way of the flow of lyrical prose. He did not write reference books; instead, he painted pictures in vivid colours to the songs of flutes.
Out of Godís Oven is an excellent sample of Domís writing in partnership with Sarayu. His contempt for everything Indian finds easy targets for what he hated mostóthe resurgence of militant Hindu fundamentalism in the Bajrang Dal, Shiv Sena, Vishwa Hindu Parishad, the BJP and the RSS. Sarayu is gentler with her characters and tends to caricature rather than castigate them. Between them, they traverse the length and breadth of India, interviewing poets, writers, editors, film-producers, Naxalites, Ranbir Sena leaders, dacoits and politicians. Once you begin reading the book, you cannot put it down.
Fines, not jails
First it was Sanjay Dutt;
Imprisoned for burning a rifle butt;
Now its Salmanís bad luck;
Imprisoned for killing a black buck;
Killers and terrorists with rifles are loose;
So are poachers of tigers, rhinos and smugglers of booze;
What got these stars trapped in the first place?
Maybe it was the height of their blaze;
Pity they were put behind bars for public gaze;
Tíwould have been better instead;
To make them pay a crore from their wealth;
For the homeless in need;
Or to enable the black buck to breed
(Contributed by Sami Rafiq, Aligarh)