Mallika on a mission
Aditi Tandon
Her beauty, her IIM degree, her bindaas attitude and the Sarabhai suffix to her name emerge as mere incidentals when you shake hands with Mallika Sarabhai, the theatre artiste and activist who is out to set many social wrongs right.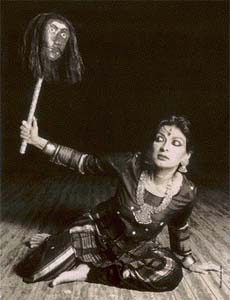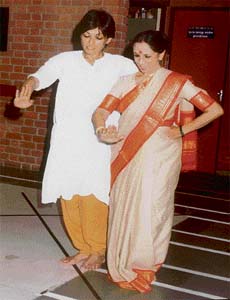 HER MOTHERíS DAUGHTER: Mallika finetunes her dance with her mother Mrinalini Sarabhai
HER dense, long mane is history. So is her once-raging reputation as a sex symbol. Mallika Sarabhai, today, is a woman reinvented, and liberated from the shadows of her past. Crisp, short hair is just part of the makeover for this artiste, who is now centrestage with her activism.
Not too long ago, she was seen wooing a handsome Farooque Shaikh in the all-time film Katha. That was, obviously, not the kind of job to have engaged a rebel for long. Mallika was destined to move on, and she did`85 towards new horizons.
Not that she was ever afraid of setting out new journeys. That, after all, was the family tradition and business. At a time when classical dance was still considered sacredly traditional, her mother Mrinalini Sarabhai was modifying Bharatanatyam to create a contemporary dance idiom. At another end, her aunt Lakshmi Sahgal was commanding the Indian National Army.
And then there was the celebrated family history to fall back on ó her great aunt Amulya Sarabhai headed the great Textile and Labour Association strike, the first labour union strike of India. The agitation saw Mahatma Gandhi negotiating with the management, on behalf of the workers, and the results were heartening. The labourersí got a half paisa raise in their salary; and Gandhi another affirmation in the power of peaceful negotiation.
A young Mallika was, thus, naturally trained to dare and explore, not so much by virtue of her motherís artistic trespasses as due to her father Vikram Sarabhaiís resoluteness that placed India on the worldís nuclear map. Today, in Gujarat where she lives, political masters mention her with a pinch of salt. She, after all, bared the wounds that Godhra left, and dragged the state Chief Minister Narendra Modi to court. Whatís more, she got from the court a direction that cases ordered closed by the Gujarat police be reopened and victimsí claims of compensation be examined afresh.
Dancer with a voice
Come to think of it Ė sheís just a dancer. But one who has found her voice, a voice thatís strong enough not to be silenced. Not even by the bombs extremists throw at Darpana, Mallikaís academy of performing arts in Ahmedabad, which has become a symbol of her activism. From Darpanaís compounds, Mallika has initiated a chain reaction of change. And in effecting change, art has been her first tool, management her second.
The sequence was the reverse when Mallika was still on the threshold of her career. Urged by her father, she went to IIM, Ahmedabad, even when he was no longer alive to see her through the competition. "I wanted to be a demographer, but papa wanted me to take management training so that together we could build great institutions for India, institutions that could run without considerations of profit. He died in 1971. I remember taking the IIM test a day after I cremated him," Mallika says, with pride.
The next thing she remembers is that she was in, filled with a desire to do new things. Her chance came when David Mc Leyland, the Harvard professor who was christened the founder of the motivational theory, agreed to guide her PhD on a topic that was way ahead of its times. "I wanted to study how to develop structures that could foster creativity. But a more important part of my research was the study of power motive in India, which has always revered those who have renounced power," says Mallika who, through her research, proved that only a fraction of the society was, eventually, interested in working without the expectation of reward.
"My study proved that at 11 years, 90 per cent of the people believed there was a direct relation between input and output; the number had dropped to 40 per cent by 15 years and just 10 per cent by 19 years. This 10 per cent was made up of students, whose parents had not lied to them about society and its evils. They had been forewarned of the all-pervasive rut and they were ready for it," Mallika reasons, explaining how she applied management training to Darpana, which gets no government or corporate funding. "I donít think I could have ever run Darpana if I didnít have my degree," she says.
As the range of conversation widens, Mallika makes another interesting confession: "As a child, I had deep love for theatre and puppetry. I never really wanted to dance. I was just too lazy or perhaps afraid that I lacked the commitment my mother had for dance. I learned dance only because others in the class were learning."
Love for theatre
Her inclinations, however, were going to change. In 1977, Mallika gave her first performance as a dancer. A French government award followed. Soon, she was being hailed as the prefect protagonist for her motherís choreography. "I never thought I could create, until Peter Brookís Mahabharata happened in 1980," Mallika had portrayed the character of Draupadi in the 12-hour theatrical, which was later made into a movie.
To Mallika, Drapuadi remains the perfect feminist: "She is the only woman in our mythology whom men could not reduce to a goddess because she was just so strong. They could not limit her to the altar. She was courageous enough to tell Yudhishthira Ė `You may be a great man, but youíre a weak maní. I respect her for that."
Draupadiís role brought Mallika closer to her real self: "I realised that the best language for activism was artistic expression. With this language, I could engage with everything I ever wanted to. I started telling social realities through dance theatre. Gradually, I found global partners in the campaign for human rights."
Mallikaís first dance theatre production Shakti: The Power of Woman became a rage in art circles. With Shakti, she had arrived on the contemporary Indian dance scene. Her ability to write her own works, transcend tradition and employ idioms like martial arts to project human longing lent her the edge that still sets her apart. As co-director of Darpana, founded by her mother in 1949, she went on to fashion several productions, while managing the academyís other wings, including development, folk/tribal art, centre for non-violence through arts and conservatory. Her skill lay not just in her mastery over dance forms, but also in her ability to adapt the realities of gender-based violence for theatrical presentation.
Exploring Hinduism
The finest specimen of Mallikaís talents remains Sitaís Daughters, her most celebrated production, performed across 40 countries, in three languages. The piece engages with issues like female foeticide and domestic violence and inspires women to "never give in". In Search of the Goddess is another striking theatrical which Mallika uses to explore Hinduism and womenís role therein. Itís this understanding that leads to her conflicts with radicals, who fear her for what she is.
"Itís fine if Modi has problems with me. I donít require a stamp of good housekeeping from him. I have a strong moral code thatís my own and I will live by it. I have always done things without hiding them," says Mallika, remembering her college days, which saw her wearing mini-skirts, dating men, even going in for a live-in relationship. She finally married and then divorced Bipin Shah, with whom she now runs Mapin Publishing. "We share a great friendship now, although we had an unhappy divorce. I was actually talking about my divorce so that everyone could learn from it," says Mallika, fire rising in her eyes as she continued talking of Hinduism and bigotry.
"Seventy per cent of the sex workers in Gujarat are such whose husbands are pimps, but the radicals have a problem talking about sex. They have ended up "Talibanising" Hinduism by ignoring its basic tenets. The religion directs us to never accept anything without questioning; these people donít let you question. The religion preaches Vasudhaiv Kutumbhkam. I know no other way of living but by taking them on," says Mallika, the activist, who has paid a heavy price for speaking her mind.
For the marginalised
Sheís, perhaps, the only woman artiste in the country who has never been honoured by her government, although she has countless "foreign" awards. "When I went public with my anti-Modi stand post-Godhra, I lost every single friend in town. I also lost corporate funding for Darpana. Now, every single penny that I earn goes into running the institution. This is one area where I feel my surname has gone against me. People canít believe a Sarabhai being short of funds," she laughs, admitting that she has been a maverick, who had raised her children on the diet of reality, no matter how harsh.
"This society stinks more than ever before and I have told my children that it stinks. Itís for us to warn them that times need change. My latest work, Unsuni, based on Harsh Manderís book Unheard Voices is about these realities, which I have showcased to enable change. The stories celebrate the spirit of five real people ó one of them a woman who has spent a lifetime carrying human waste on her shoulders. If not anything else, we owe her our attention. Incidentally, the government tried to censor Unsuni," Mallika gloats, mentioning also of the Unsuni voluntary movement, which seeks support for the marginalised.
Next from her repertory will be Swakranti and Colours of the Heart. The first (literally meaning a revolution within) is a reflection of Mallikaís Gandhian beliefs; the second is a reaction to her encounters with people with extreme views. But topmost on her mind is something she calls "voluntary action through art", a new mission in which she finds her son Revanta and daughter Anahita, by her side. Both, like her, are generously endowed with traits that are typically Sarabhai.