Voices of the spurned
Yasmin Alibhai-Brown
Enslaved
by Rahila Gupta
Portobello. Pages 318. `A312.99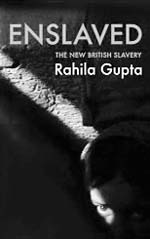 Rahila Gupta is indefatigably watchful. Like a floodlight, she turns her furious intellect and passion to social injustices, leaving no place for excuses to hide. Many years back she joined Southall Black Sisters, a forceful collective set up to protect Asian and Afro-Caribbean women from domestic violence. One SBS campaign succeeded in changing the legal definition of provocation and Gupta wrote the script for a film based on the case of Kiranjit Ahluwalia, who killed her violent husband. In this book she champions the flotsam and jetsam, clandestine itinerants with no names, no status, no protection, who try to survive in that twilight patch between life and death.
Such commitment is deeply unfashionable. In our apolitical age, too many progressive liberals have turned into sour, complaining middle-agers. They have caught the anti-immigration virus of the right and are deaf to the cries of the dispossessed. Worse still, most Britons now feel inordinately threatened by the wretched of the world who won't stay put.
Gupta brings some of the scorned and strangers to their doors. An undocumented Chinese worker stands there imploring, an Eastern European plaything, a repeatedly raped Somali asylum seeker, and an abused Asian bride: each one an ambassador for countless other creatures who "no more scratch at our consciousness than rats living below the floorboards". The author calls them "slaves", a misnomer. Slavery was highly organised and above-board. This exploitation is worse because unseen.
Brought up from the underworld, these individuals collect a shredded life. They describe longing, anguish, broken trust and serial exploitation, using vague detours, endless repetitions, bathos and mutterings which at times sound like signs of approaching madness. For Faria Nur, her genital mutilation as a child of eight was so savage that sex has always felt like rape. She was sewn up so her periods built up inside her and had to be drained. Yet she says cheerfully that, "Apart from the genital mutilation I had a good childhood".
Natasha, the trafficked teenage Russian prostitute, describes David, for whom she worked, and the clients: "(They) were mainly English, some Chinese and some Indians. David's friends would come. They would drink and then want time with me – free!" The interviewees barely register their own degradation. They have made so many mistakes, tell so many lies, that sometimes as a reader you lose empathy, but then imagine yourself in that place, and moral censure burns away in the heat of necessity. Rarely do we hear these voices and most Britons prefer it that way.
Each chapter begins with a summary of the social and political conditions that prevail in the country of origin of the escapee and the circumstances that led to the decision to leave. Rules that affect them in the UK are inserted in italics. Although this does help to contextualise each case, it also interrupts the storyteller mid-flow. It is a
conundrum.
Without the background information, this collection would become populist grief-porn, another volume on the packed shelves of heart-rending memoirs. Locating the personal in the political and social landscape inevitably diminishes the power of the narrative. Even so, the bigger picture was vital. These destroyed lives expose the lies of globalisation and British hypocrisy, layer after layer, embedded in the nation's history and contemporary international postures. Unfortunately those who should will never read Enslaved, and that's the greatest pity of all. — By arrangement with The Independent