Food talk
Draped in sauce-like gravy, murg mazedar doesn't take long to cook, writes Pushpesh Pant
Check out this chicken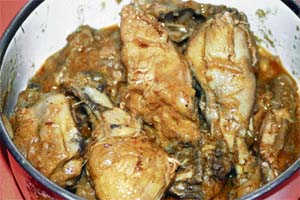 One man's meat, it is said, is another man's poison. But when it comes to chicken, there is general agreement that this is just what the doctor has prescribed. From sinfully rich korma to bare bone greaseless tandoori items, the murg can be enjoyed without hassles. There are purists who lament the demise of the desi bird and curse the broiler relentlessly but the masses are quite content with the white flesh, be it tangri or the breast.
Beginning from the home-style curry to the ubiquitous butter chicken Ludhianvi to dum ka murg Hyderabadi, there is no dearth of recipes that have the potential of being winner.
The trouble is that many of these have been reduced to the lowest common denominator and lost their old magic. Cooking the murg poses a creative challenge every time you have a bird in hand.
Do I cook it with gravy or serve it dry? How to make the broiler absorb some distinct flavour? Dum is too much jhanjhat and it is not always possible to marinade the chicken for the required time. Murg mazedar has the advantage that is lapatwan i.e. draped in sauce-like gravy and doesn't take long to cook.
For this recipe we once again owe a debt to Indrajit — who has a penchant for subtle aromatics and shows a marked preference for nutmeg and mace. These were at one time considered exotic and expensive but times 'they are a changing'. Javitri and jaiphal to give them their native identity are readily available and as a pinch goes a long way one can't really complain about expenses. Dalchini goes well with these and saunf accentuates the delicate touch. Haldi is just not for colour but also for taste-more than baraye naam.
Another plus point of this recipe is that it does away with onions, no peeling and weeping as the chore is done and with the price of the vegetable skyrocketing — we are not complaining.
A word of caution. Best recipes can be ruined by bad butchery. Please ensure that the bird is skinned and jointed cleanly. Also, this dish tastes much better with bones. The sauce-like gravy absorbs the juices rendering it tastier.
Murg mazedar
Ingredients
Chicken (medium sized, cut in 10-12 pieces) one
Green chillies (slit and chopped) two
Garlic cloves (crushed) 6-8
Black peppercorns 8-10
Dhania seeds powder 2 tsp
Red chilli powder 1 tsp
Haldi powder 1 tsp
Saunf 1 tsp
Ghee 1cup
Mace powder (javitri) ¼tsp
Nutmeg powder (jaiphal) ¼ tsp
Dalchini powder ¼ tsp
Salt to taste
Method
Wash, pat dry and trim the chicken. Prepare the marinade by grinding the green chillies, garlic, black peppercorns, coriander seeds, red chillies, turmeric and aniseed (except salt) and rub all over the chicken. Keep aside for about two hours. Boil ½ cup water with ½ tsp salt and put the marinated chicken in it. Bring to boil then lower the flame and simmer for 15 to 20 minutes till almost dry and chicken is tender to your taste. Towards the end add mace, nutmeg and cinnamon powder. Heat ghee in a pan and add the chicken and cook over low heat for 10 minutes till golden. Serve immediately with phulka or rice.