The IT and BPO industry is facing the pressures of its own growth. Alcohol,
ill-health and escalating divorce rates are taking a huge toll of talent.
Jangveer Singh looks at the consequences of the pressure-cooker lifestyles
of young executives and the need for care and counsel
Price of success


'We are the harbingers of growth'




Kiran Karnik
If one thought the BPO industry, which is most blamed for the crisis among youngsters in their work-life balance, is even in the mood to consider the issues being raised by medical experts, sociologists and psychologists, you would be wrong. The main issue of discussion during the recent Nasscom – ITES BPO industry annual summit was how to control attrition and ensure money continued to be made by the industry.
The industry also dwelt at length on the need to ensure tax cuts continued beyond 2009. The problems of IT workers were discussed in an oblique manner. The panel discussion was on "Indian ITES-BPO industry: Young and troubled or harbinger of a cultural and economic revolution". The Nasscom BPO Newsline magazine, issued one day prior to the panel discussion, summed up what its outcome would be.
According to it, the "panelists will talk about how the social interaction of this work force reflects youth trends in the country today, rather than behaviour specific to the BPO industry", diametrically opposite to the opinions expressed in a recent media survey on the issue.
With the ground rules laid down, they proceeded to do just that. A select audience obliged by not asking a single question on health, social or psychological concerns of BPO employees though there was a query on how BPO employees could be made to value their jobs more.
Raman Roy, CEO, Quatrro BPO, started the discussion by holding forth on how the media was laying all ills affecting society on the doors of the BPO industry. He said issues like overspending are part of the growing up process and that responsibility comes with financial independence. Nasscom President, Kiran Karnik, while reacting to criticism of the behavioural patterns of BPO employees said the industry did not want to go in for moral policing. "If they want to drink or smoke it is their choice. They have a right to have extra-marital affairs or indulge in promiscuous behavior. We cannot dictate the hemlines at work".
Karnik when approached by TNS, said he had been misquoted in a section of the Press which quoted him saying "people were coming drunk to work" among other things. "How can you imagine I will disparage the industry I represent?", he said, adding though there were causes of concern, they were no more or no less than in any other sector. He said the industry was conscious that some of their workers had drinking or smoking problems.
"We try to guide them". Going further, he said: "Are they on drugs? I do not know. I am however sure the same issues are relevant to student hostels in the country".
If Karnik at least took on such questions, BPO CEOs would not even listen to them. When Genpact CEO Pramod Bhasin was asked about health concerns among BPO workers, Karnik intervened to say he would answer the question as Bhasin may get "worked up". Bhasin had this retort: "How many of us work 9 to 5?" (much laughing and sniggering), when questioned about long and erratic time schedules. He went on to say "other countries want us to bring our business there. Here we have the knack of killing the golden goose or seem to do so". — J.S.
Ten years back Information Technology and IT Enabled Services was a sunrise industry in India. The government wisely gave the industry a free hand to frame employee policies which it did with aplomb. Today, the industry is entrenched in the metros and fast moving to tier-two and even tier-three cities with demand outstripping supply. IT and BPO jobs are the new panacea for a man on the move to build a bright future for himself.
However, the progress achieved in this sector in the last 10 years has come at a price. Workers, especially in the Business Process Outsourcing (BPO) sector, are complaining of mental and physical problems due to the nature of their work. Tight deadlines and ambitious targets cause similar problems in the IT sector with "burnout" becoming a commonly used word and heart attacks striking down youngsters, a thing never heard in the decade earlier nine-to-five jobs available in India.
Even as the country copes with the new jobs and the new cultures it brings in its fold, things appear to be coming to a head. There is a rising concern among researchers, health workers, psychologists and now even the Union Health Ministry that there is a disconnect somewhere and some corrective action is needed to protect "young lives".
However the industry, which has its own peculiar dynamics dealing as it is with fears of an end to tax-free days, rising competition from China and increasingly costlier operations, is unwilling to admit there is anything wrong.
The latest case in point is the statement by Union Health Minister Anbumani Ramadoss who has called for formulation of a dedicated health policy for the IT and ITES sector. The Minister, while talking about the health problems being faced by employees in the IT sector, said he had discussed the issue with Communications and IT Minister, A. Raja who was also keen on a new health plan for the IT industry. Ramadoss, who cited a study by the Journal of Occupational and Environment Medicine, said reduction of even one health risk increased productivity by nine per cent.
Health risks
Ramadoss in his typical style did resort to few generalisations while making his point about the health risks faced by IT workers and how the social fabric was being affected by marital discord and rise in divorces. The National Association of Software and Services Companies or Nasscom, which represents the IT sector, chose to reply to the generalisations mentioned by the Ministers in quick rebuttal rather than talking about the issues mentioned. The comments were described as a "generalised slur" on half a million workers working in the BPO industry. Without discussing serious issues raised by the Minister like rising stress levels, cardio-vascular diseases, mental disorders, divorce rates and day-time sleepiness, Nasscom chose to harp on something it has steadfastly maintained all along – that its workers were adults and that it would not interfere in their personal life or choices. With the stage set for further confrontation on the issue, there is a need to have a look at the lives of IT and ITES workers at the micro level.
One such life which was snuffed off in its prime is that of V. Chandrashekhar, 31-year-old software developer working with Wipro Technologies in Hyderabad checked into a company guesthouse in Bangalore on July 8 this year. On July 23 when he did not respond to any calls, police broke into the room to find him dead with vomit all around him. Also in the room were eight bottles of beer, seven of which were of the strong variety with eight per cent alcohol. Also found were 50 king-size cigarette butts and two anti-diahorreal tablets. Chandrashekhar had consumed the beers and cigarettes and taken the tablets two days earlier on Saturday night. Everyone thought he was busy interacting on his laptop with clients in the US, who work in different shifts, until Monday, when his death was discovered.
For 28-year-old software engineer Virender Singh Dhakad, death came in a matter of seconds. He was fine till early Sunday, his day off and even visited a friend. However, by late morning he complained of chest pain and was rushed to Apollo hospital where he was declared dead on arrival. He had apparently died of cardiac arrest.
Aparna, an IT professional, approached a lawyer seeking divorce two days after her marriage. She said her in-laws were constantly involving her in rituals and puja even as she claimed she wanted a man who did not place any restrictions on her. The lawyer says the real reason was that the woman wanted to move to another city where she had been offered a better job and that her husband did not want to make the change. The woman went ahead with her decision rather than compromising on her career.
These are glimpses of how IT and BPO jobs have changed the social fabric in metros in our country. Bangalore, the city which is everyone's supposed envy for inventing the pub culture in the country and making 'pubbing' hep and happening, besides ushering in the IT revolution, is now coming to terms with their effects.
Chandrashekhar's case may sound bizarre, but doctors and psychologists feel binge drinking has become a dangerous tool being used by the techie of today to relieve stress.
Basically loners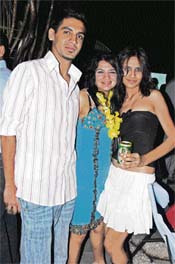 Young professionals chill out at a party
"IT and BPO workers are basically loners who may give the impression of bonding with co-workers but this is not the case because "ever-increasing targets" and competitive rivalry come in the way of forging friendships", says Dr Manika Ghosh of the Department of Psychology at the Maharani Science College in Bangalore. "I have seen a lot of these people roaming alone in malls in the city. They do not know what to do on weekends and many get drunk on a regular basis". She says many of these people do not take to drinking for the kick alone but to get away from a feeling of depression. Trying to explain the issue from a techie's point of view, she says most IT professionals working in Bangalore or Gurgaon are outsiders. "Anonymity breaks barriers and you feel you can do things you would not do in your home town", he says, adding promiscuous behaviour including swapping of partners and homosexuality, was on the rise in these professionals.
Liquor may cause its own problems, but what is even more disturbing is the heart problems being faced by IT professionals in their mid-life. Doctors maintain Virender's is not an isolated case and that an increasing number of IT professionals are becoming prone to heart attacks. They maintain that the abrupt change in sleep schedules coupled with high stress, a sedentary lifestyle and poor dietary habits lead to heart diseases among the young in India's sunrise industry. Narayana Hrudalaya in Bangalore is reporting an increasing number of people falling victim to heart diseases. "Obesity, due to long hours at the desk where energies are sought to be maintained through high-energy supplements, coupled with excessive smoking can be a dangerous mix for the heart", a hospital doctor said.
Stressbusters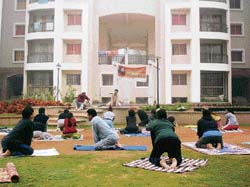 Manas Maral, a software professional, taking yoga classes for IT professionals in a residential complex in Bangalore.—Photos by Shailendra Bhojak
Recreational experts say they have interacted with software professionals from various companies and have realised that they look forward to some recreational or de-stressing sessions be it meditation, yoga, dance or marathons.
Some companies are going in for these sessions though it becomes difficult for them as well as the individual to hold such sessions on a regular basis. Manas Maral, who is a software engineer and admits to working 12 hours a day, inspires professionals like himself to take to yoga and meditation. "Techies are slowly realising they cannot relieve stress by partying and team-building exercises", he says. Manas conducts short camps and teaches breathing exercises popularised by Swami Ramdev. "Pranayama helps IT professionals doing long shifts", he says adding he also helps people suffering from frozen shoulders and other related problems due to long work hours.
What emerges is that moderation, meditation and counselling are not only self-driven but usually occur at a later hour in the life of IT professionals. Kris Lakshmikanth, whose company Head Hunters has been helping and now even co-partnering IT and BPO companies to find talent since the last 20 years all over the country, in a candid interview says the right employable talent is limited. "Companies are ready to pay for the right talent", he says due to which youngsters today are getting a lot of money at a young age.
Problem of plenty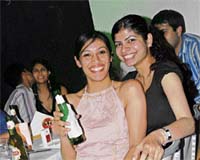 Techies have an evening out while a couple can be seen getting cosy in the background.

"When young people have excess money, you are playing with fire", Lakshmikanth says adding "in some BPO companies the bathrooms have known to be clogged with condoms". He says companies have gone on to install video cameras in bathrooms and even inside the cabins of their managers".
Speaking about how companies, particularly BPOs handle the issue, he says "they talk about it (drug abuse, alcohol etc) but can do nothing due to the high attrition rate. "The average life of a BPO agent (entry level job) is 18 months and there is constant rotation at work. "There is constant shortage of people. If they have to offer counseling, it is at the manager level, to people who are in for the long haul", he added.
Equally disturbing is the toll on marriages. According to conservative estimates, at least 50 per cent of the divorces occurring in Bangalore are from the IT and BPO sector. The rate of divorces is increasing in the city. About 2,493 matrimonial dispute cases were received by family courts in 2005 and 2,995 in 2006. The number received till July 23, this year, was 1,666. Surprisingly, as many as 30 to 40 per cent of these cases are not contested and settled with mutual consent.
Dr Ghosh, while speaking from her experience, says live-in relationships are on the rise as many professionals do not want to take on the responsibility of marriage. "Even in marriages there is a lot of trouble as they do not spend enough time with each other. Some couples do not meet each other for a week at a stretch". M C Pankaja, a counsellor at Prasanna Counselling Centre, says most of the women from the IT sector seeking divorce have not been married for more than six months. She says in many cases women are also not ready to let go their financial independence at any cost. "I have yet to see a girl who wants to stay in her in-laws house", she says adding "IT companies bind people to offices making their personal lives a wreck".
Best HR practices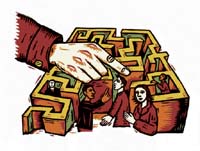 The BPO employees are often caught in a maze
A woman techie says almost all companies while hiring a new recruit talk about new projects and how "initially" candidates will have to "stretch" hours. "They go on glibly saying we understand "some" women have families and even say we should discuss the issue with our families. Anyone who wants the job has no way out but to agree and if you baulk at spending long hours later, the HR executive sweetly tells you "this issue was ironed out at the interview stage itself", indicating you are reneging on a solemn promise.
Union of IT Enabled Services (UNITES) head Karthik Shekhar says it is difficult trying to get IT companies to adopt best HR practices even though all IT companies claim they have the best in industry standards. The union is presently representing women who had had been put on the bench after working for a company for five years in a bid to make them quit on their own (allegedly to avoid paying hefty annual increments) in the court of the Labour Commissioner in Bangalore. He says while this is a clear case, the work practices of BPO companies were hard to challenge. He claimed that 'get-togethers', pubbing and disco nights sponsored by BPO companies in a bid to create "bonding" among the employees were responsible for starting a vicious cycle. "Once they get into this culture, they want to go out every Friday night, spend money, and get broke and then report back to work on Monday. This cycle ironically keeps the IT industry ticking", he adds.