Ads are tougher: Abhishek
Subhash K. Jha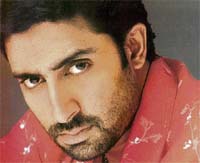 Bollywood actor Abhishek Bachchan, who is the new brand ambassador of Flying Machine jeans and is all set to shoot for its ad films, says it is anything but easy to work in ad films.
"I think itís far tougher doing an ad. Within two minutes, one has to say what one gets to say in nearly three hours in movies. So, yes, I enjoy doing ads," he said. "Flying Machine is a special challenge because here Iím going to be instrumental in taking the product ahead of where it is. Hopefully, far ahead," said Abhishek.
"Iím, of course, in the loop. Iím taken into confidence as to who would shoot the ad and other details. Itís gratifying to work with these young ad makers, many of whom finally come into making movies. Pradeep Sarkar, with whom Iíve done ads and now a film called Laaga Chunari Mein Daag, and Balkrishnan being the latest examples of ad makers-turned-feature film makers.
These guys are really talented." So does the brand intend to make Abhishek the global face of Flying Machine? "They do. And I feel good about it. Because Iím furthering the cause of a product I truly believe in," he said, adding that he wonít endorse products he didnít believe in. ó IANS