In the name of the father
The conflict between the father and the son has been the staple of many a Hindi film,
says M.L. Dhawan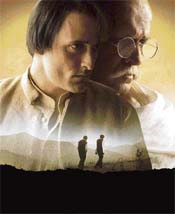 Gandhi My Father portrays the conflict between Mahatma Gandhi and his son Harilal
Father is the muse around which many film stories have been woven. A recent film Gandhi—My Father, produced by Anil Kapoor, conveys the longing of a hapless father and the frustrations of an ambitious son. Mahatma Gandhi (Darshan Jariwala) sacrifices the future of his son Harilal (Akshaye Khanna) for the sake of nation. As the father ascends the popularity graph, the son's life spirals downwards. Harilal who is a model father, son and husband fails to understand why Gandhi has to place the nation before his own family. Gandhi, on the other hand, prays for an understanding from his son as to why he cannot relinquish his duty towards the country. Another recent film that focused on love and devotion towards the father was Apne featuring Dharmendra, Sunny Deol and Bobby Deol.
B.R. Chopra's Baghbaan is about filial ingratitude in which Raj Malhotra (Amitabh Bachchan) — a retired bank officer and his wife are abandoned by their four sons.
A path-breaking film in the role of a father was Mahesh Bhatt's Saaransh. Anupam Kher's performance as B.B. Pradhan, a retired teacher, was a wake up call to those actors who were caught in grooves. He was only 28 when he played the 65-year-old Principal. The scene when a father raves at a custom officer because of the red tape involved in procuring the urn containing his NRI son's ashes is a hallmark in film history.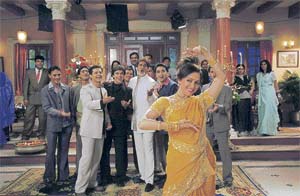 In Baghbaan, Amitabh Bachchan, a retired bank officer, and his wife Hema Malini are abandoned by their four sons
There have been many great father-son performances in the Hindi film scene. In some films, there is a clash of ego between the father and the son. In K. Asif's Mughal-e-Azam, Akbar (Prithviraj Kapoor) gets furious when he learns that his son Salim (Dalip Kumar) is romantically inclined towards court dancer Anarkali (Madhubala). Salim protests against his father but is defeated by the royal army. Anarkali is ordered to be entombed alive. The father in him, however, overpowers the king and he arranges an escape route for Anarkali.
In Ramesh Sippy's Shakti, there was clash of duty of father with the responsibility of a son. Between the hopes of a father from his son and the pressure on the son of expectations living up to a father who is so formidable that he cannot be emulated. Ashwani Kumar (Dalip Kumar) was a righteous police officer. Vijay, the son (Amitabh Bachchan), is always on the wrong side of law.
In Yash Chopra's Trishul, the anger of Vijay (Amitabh Bachchan) is directed against his illegitimate father J.K. Gupta (Sanjeev Kumar) who had abandoned his pregnant mother Shanti (Waheeda Rehman) for his career.
In Akele Hum Akele Tum, Kiran (Manisha Koirala) tries to fuse matrimony and motherhood with her career but it does not work out. When she walks out of her marriage, Rohit (Aamir Khan) is called upon to learn the rudiments of fatherhood to look after his young son. He metamorphoses into a daring-dotting father and holds on to his son.
In Dilwale Dulhania Le Jayengey, Anupam Kher knows his son (Shah Rukh Khan) inside out, shares beer with him and eggs him onto go after the girl he loves.
Similarly, in Armaan, Amitabh Bachchan plays Dr Siddharth Singh, an honest doctor who is struggling to run his hospital and looks forward to his son Anil Kapoor — a neurosurgeon to carry on his legacy. The father and son are friends and unwind at the end of the tiring day with a generous dose of music.
Amitabh Bachchan as Narayan Shanker in Mohabbatein is a strict disciplinarian father whose stand on his daughter's love life results in her committing suicide, a loss which as a father he rues in his entire life. But in Hum Kissi Se Kum Nahin as Dr Rastogi he protects his daughter Aishwarya Rai from the types of Sanjay Dutt an underworld don.
Also one cannot forget the riveting performance of Sanjeev Kumar as the long-lost father of Kajli (Sharmila Tagore). In Gulzar's Mausam, his daughter who had become a prostitute and considers him as her client. Hrishikesh Mukherji's Anupama (1966) portrays the temptuous relationship between Mohan Sharma (Tarun Bose) and his daughter Uma (Sharmila Tagore). The father hates his daughter because his wife had died during childbirth. The daughter grows up to be a confused girl who is unable to understand human behaviour. As the train taking her away pulls out of the station after her marriage, the repentant father leans against a pillar, tears streaming down his eyes for losing his daughter he never loved.