Dharam is still garam
V. Ananth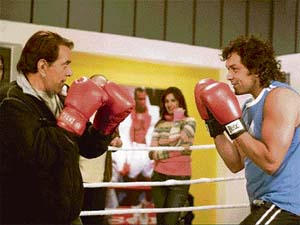 Dharmendra and Bobby Deol in still from Apne
Dharmendra is happy with the response for his last two releases — Metro and Apne and hopes that they like him in his latest release Johnny Gaddar too.
"It is about a group of people who want to make quick money, though initially it is out of necessity. The best thing about the film is that it has absolutely no preaching. Every actor in the film whether it is Neil Mukesh who is making his debut as an actor or Zakir Hussain or Vinay Pathak are like real life characters in flesh and blood"
"My role in the film has shades of grey. I`A0had signed Johnny Gaddar long before Apne was launched with Sunny, Bobby and self. I believe in destiny. I had watched Shriram Raghavan's Ek Haseena Thi. It was a world-class film. Urmila Matondkar had given one of her best performances in the film. It is indeed a matter of destiny that even while I was thinking of acting with a director like Shriram, he himself approached me".
According to Dharmendra, "Destiny has played a vital role in shaping my career. Dutt saab and Nargis had selected me in the United Producers' contest. Had they not selected me, I may have been a farmer somewhere in Punjab even today", he says nostalgically.
Neil Mukesh is making his debut as an actor with Johnny Gaddar. Says Dharmendra, "Neil`A0was not in awe of me as a co-star while we worked in Johnny Gaddar, because I never let my co-actors feel that I am a senior. While the late Mukesh had sung the song Mujhko Is Raat Ki for the first time for me, when I was still struggling as an actor though I had signed the contract for Bimal Roy's Bandini, Mukesh's grandson Neil Mukesh is debuting as an actor with me in Johnny Gaddar. Neil is a very promising actor".
Dharmendra recalls the time when after he had made his debut with Dil Bhi Tere Hum Bhi Tere, he was told that Mukesh will be singing for him in Shola Aur Shabnam. "I was excited and walked all the way from my residence in Andheri to Mehboob Recording Studio in Bandra only to be disappointed since Mukesh had cancelled the recording because he was not feeling well. I then walked away all the way to Ranjeet Studio to meet Kaka, who had a small restaurant nearby to ask for a loan of 10 rupees, because I was hungry and my pride would not have allowed me to eat without paying him".
According to Dharmendra, the film industry has changed today. "Technique has changed a lot today. Earlier we conveyed a single expression in 10 lines whereas today in one line, the actors convey 10 different expressions. The IQ of kids today is very high compared to what we had".
Like Vyjayanthimala and Dev Anand, Dharmendra is also planning to come up with his autobiography.`A0"I am in the process of writing the book. I write what I feel. The book will take you on a journey through my life with all its ups and downs, though it would not be controversial enough to hit anyone below the belt."
Dharmendra says he`A0was pained when Natraj Studio was being demolished to give way to a housing society. "I still remember the various films for which I had shot in Natraj Studio. Most of my films were shot in Natraj, Prakash and Modern Studios. None of them is there today. They have all become extinct".
"It was painful for me to be away from the camera for almost 10 years. I have always loved facing the camera. Till 1994, I was quite busy and used to do at times, even 30 films in two shifts everyday. I'd love to die with my boots on while facing the camera. I was lifeless when I was not doing films for almost 10 years till I signed Johnny Gaddar, Metro and Apne.
Dharmendra is all`A0set to revive his banner Vijayta Films. "We are in the process of reviving Vijayta Films. Sunny is planning to start five pictures. We will launch a film with Sunny and Bobby in October. The other four films will be launched later". — MF