Kher to act in Amritraj's film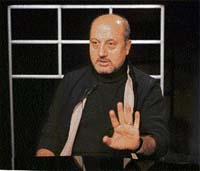 Anupam Kher has accepted a pivotal role in producer Ashok Amritraj's The Other End Of The Line, a love story featuring an Indian girl in Mumbai from a call centre who travels all the way to San Francisco to be with her American love-interest (Jesse Matcalfe). Anupam Kher plays the heroine's father.
"I met Ashok Amritraj some three years ago and was struck by his global vision of cinema," recounts Anupam whose next release is Pradeep Sarkar's Laga Chunri Mein Daag.
"When he narrated this script about a cross-cultural love story I was completed taken up by it. I wanted to be part of it."
"If you remember I had played Parminder Nagra's father in Gurinder Chadha's Bend It Like Beckham. That was my first big international film. The Other End Of The Line will be shot in Mumbai and partly in San Francisco." — IANS