Tales of triumph
Women belonging to the poor Muslim community in Saharanpur district of UP have come out in quest of education, better living and a future for themselves and their children, writes Raju William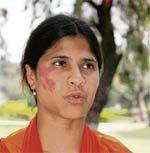 Tasneem travels 25 km daily to complete her education
A silent change amongst the orthodox Muslim community in Saharanpur district of UP is taking place. The change-makers in the community, afflicted with illiteracy, poverty and ignorance, are poor Muslim women from villages. They have defied tough societal pressures to come out in the open in quest of modern education, better living and a bright future for their children, and in the fight against injustice and domestic violence.
Many of them from poor rural Muslim families living in the Chilkana area of Saharanpur, a centre of Sunni orthodox Islam, not only braved accusations from their family members, husbands and the clergy but some were even physically assaulted for going out of the privacy of their homes. Many of such change-makers were recently in Dehradun to attend a workshop as part of Oxfam's global campaign named 'We can,' aimed at curbing violence against women. The workshop was organised by Disha, a local voluntary group.
Shaheen Parveen, married to a driver, has done her masters in sociology



Shahnaz is a professional health worker
Not only women but volunteers of Disha are also currently engaged in social work with the Muslim community for the past several years. The volunteers faced threats, attacks and pressures for 'inciting' Muslim women.
"It was real tough to educate Muslim women in an orthodox rural atmosphere," recalled Keshavanand Tiwari, founder of Disha, who started the voluntary work in Saharanpur in 1982.
But it was the case of Naseema of Sultanpur village in Chilkana tehsil of Saharanpur that changed the scenario. She revolted against physical abuse by her rickshaw-puller husband. Getting rid of the veil, Naseema braved the violence, learnt the art of reading and writing and started working as a social volunteer. " I decided that instead of getting killed by my husband I should die for some social cause," Naseema recalled. After a struggle of 25 years, Naseema, now 45, working as a social activist, is supporting her family along with her husband, who has mellowed down.
Her struggle inspired many Muslim women of the area to come forward for better education and fight for their rights. Shaheen Parveen, inspired by Naseema, decided to study. " My parents wanted me get married but despite tremendous pressure I did my masters in sociology without wearing a burqa," she said. Married to a driver, Shaheen Parveen is making every effort to give best education to her two children. " Now even my in-laws respect me and value my decisions," she proudly said.
Shahnaz of Chilkana in Saharanpur was ostracised by her husband and family for showing inclination towards education. Twice divorced and a mother of two children, Shahnaz decided to defy society to make her own choice. She studied and passed class VIII. She later got training as an auxiliary nurse midwife (ANM). " I refused to undergo the mandatory four-month-long iddat period after my second divorce since I had to earn to feed myself and my two children," Shahnaz said. With her elder son now in class VIII, Shahnaz, working as a professional health worker, hopes to look for a better future.
"Such cases helped other Muslim women, particularly the younger girls, grow in confidence to take their own decisions," claimed Jhanvi Tiwari, coordinator of Disha.
Tasneem (21), from a poor family, who put her foot down to study, is today covering a distance of 25 km daily from her village to Saharanpur city to complete her masters in sociology. None of her three brothers could complete their school education. " But we three sisters are determined to complete our studies and do well in life. I plan to do my law graduation," Tasneem said confidently. After she started going to Munna Lal Degree College, Saharanpur, a total of 14 Muslim girls followed her example.
"After initial struggle, we are slowly getting accepted but with suspicion. This is our triumph," asserted Jhanvi Tiwari.