TELEVISION
Comedy call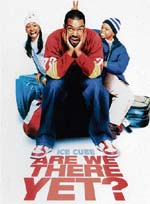 Are We There Yet…Comedy time
Watch this with the family. This is a highly entertaining comedy about a 30-something bachelor with only one thing on his mind — marriage.
In Are We There Yet (October 18 at 9 pm), which channel bachelor Nick Persons (Ice Cube) confidently pursues his latest attraction Suzanne (Nia Long), only to discover that she is a recent divorcee with two kids. He quickly realises that the only way to the single mother's heart is through her children. So when Suzanne's work keeps her in Vancouver on New Year's Eve, Nick offers to bring her kids over to his house. But he gets way more than he had bargained for.
Now Nick must survive 24 hours with two kids who are bent on keeping their mother single, not to mention dealing with missed flights, missed trains, run-ins with wildlife, and severe car trouble. A film that will keep you entertained from the word go.
Floating palace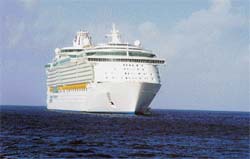 World's biggest cruise ship: Luxury on waves
THIS is the ultimate cruising experience and an awesome mega-structure using the most sophisticated technology in the world to create a ship like none other. Its all about action and adventure.
Enter the Freedom of the Seas (October 16 at 10 pm) on National Geographic Channel for a tour of the world's biggest cruise ship. This is the first ocean liner with its own on board wave machine, surf park and water sport zone complete with fountains, geysers and a cascading waterfall.
For the adventure-minded there is a rock climbing wall with 11 routes and a central spire you can swing around. There's a boxing ring and full-sized ice rink. Besides, it has cantilevered whirlpools that extend 12 feet beyond the sides of the ship. To top it all, it has extensive wi-fi capabilities and connectivity for cell phones, as well as flat-screen TVs in every room.
Join the Freedom of the Seas as she voyages on the rough seas. What are the designers' biggest fears? What would they do if something went radically wrong? Could this be another Titanic? Watch the show for answers to some questions that worry the rich tourists who board this luxury liner. —NF