Gujarat University hit bull's eye
Chandigarh, October 15
Gujarat University, Ahmedabad, with 1,819 points, lifted the overall championship (men) of the All-India Inter-university Archery Championship (Indian round) at Panjab University, here today.


Archers in action during the All-India Inter-university Archery Championship at PU grounds, Chandigarh, on Monday.—Tribune photo by Pradeep Tewari
Sports gym turns slimming centre
Chandigarh, October 15
The multi-purpose gym at Sports Complex, Sector 42, is not serving the benefit of sportspersons. In fact, it has turned into a slimming centre for the public. It has been learnt that influential persons are using the hi-tech gym at the cost of sportspersons. Besides, a few top officers and their family members often avail of the facility free of cost.

A view of the hi-tech gym at Sports Complex, Sector 42, Chandigarh.— Tribune photo by Pradeep Tewari
Khushi Ram is kabaddi body chief
Chandigarh, October 15
Khushi Ram was elected president of the North Zone Circle Kabaddi Federation at the general body meeting held, here, yesterday. J.P. Sharma and Subash Tekchandani have been elected as general secretary and treasurer, respectively. The house, however, has unanimously authorised the president and the general secretary to nominate the other office-bearers of the federation.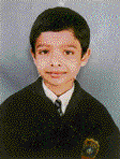 Naman Nanda, who won a gold medal in the u-14 boys' foil (individual) and a silver medal in the u-14 boys' (team) events during the National Fencing Championship held at Gwalior. He is a student of Bhavan Vidyalaya-15, Panchkula.

Cricket
Vivek High thrash Delhi boys
Chandigarh, October 15
Splendid bowling by the boys of Vivek High Asian Cricket Academy-38 shattered the hopes of Bhadhurgar Cricket Academy, Delhi, by five wickets in the league match of the B.M. and B.N. Sharma Memorial Cricket Tournament. The tournament was held at DAV College, Sector 10, here, today.
BV register nine-wicket win
Chandigarh, October 15
An unbeaten knock of 45 runs by Varun Kaushal enabled Bhavan Vidyalaya, Panchkula, to clinch a nine-wicket triumph over Ajit Karam Singh International Public School-41 in the fourth Molly Carver Twenty20 Cup. The meet is being held at St Stephen's grounds in Togan, near here.
Skating
Darshvinder emerges winner
Chandigarh, October 15
Darshvinder Kaur of KB DAV-7 bagged the first place in the u-14 girls' rink race-I event during the Inter-school Skating Meet held at Skating Rink, Sector 10, here, today.
JJ Sports Club lift cricket trophy
Chandigarh, October 15
JJ Sports Club beat Himachal Cricket Club (HCC) to lift the Chandigarh trophy at Government Senior Secondary School, Sector 27, here today.