Find your SPACE
Usha Albuquerque
Sunita Williamís visit to India has got us star gazing. All budding young scientists with stars in their eyes now want to be astronauts and astronomers. Itís not surprising! Who has not gazed up at the sky and been enchanted by the twinkling stars? Who has not read about and watched with bated breath as men and machines travel to the far corners of the universe unraveling its many secrets?

Going places
The tourism administration course aims to meet the manpower needs of the booming travel sector, writes Vishal Gulati
THE career options in the tour and travel industry have increased in direct proportion to the growing domestic market, micro-economic stability, liberalisation and the growing presence of multinationals in India. Until recently, the industry was banking on traditional themes like culture and heritage. Now, the focus has shifted to health and medical tourism, eco-tourism, steam engine tourism, cricket tourism, spiritual tourism and rural tourism.

Careercature
Sandeep Joshi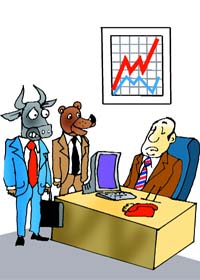 I donít know why I see every candidate as a bull or bear these days.
Watch out
Time needs managing
I.M. Soni
IN the corporate culture, time is of prime importance. Those who are guided by the principle of "by and by", they arrive at the house of "never." Procrastination indicates that a man does not see his way clearly. And undue of it means that he does not see at all. Charles Buxton says, "Indulge in procrastination, and in time you will come to this, that because a thing ought to be done, therefore you canít do it."

Bits & bytes
Max New York to double headcount
MAX New York Life Insurance has announced it will double its employed sales force by the end of next year to support its growth objective in the coming years, as it seeks to become the top player among private life insurers. "We plan to make fresh capital infusion of Rs 750 crore by the end of 2008 for setting up another 150 offices," said Gary Bennett, Managing Director and CEO of Max New York Life Insurance Company, the third largest private life insurance player as of now.

FAIR PROGRESS

Women prove to be better managers
Malvika Bhatnagar
Women have emerged as the better managers not only in the corporate world but also in the remote villages of the country where the fairer sex has managed to successfully provide micro finance to alleviate poverty.

Tribal girls turn airhostesses
Ajitha Karthikeyan
Until an year ago, Shanmugapriya, a tribal girl from a village near Madurai in south Tamil Nadu had seen planes only in films. Today, she is busy preparing for an interview for an air hostess' job in an international airline.

Career Hotline
Studies in sushi land
Pervin Malhotra
Q I missed the Japan Education Fair held in the capital earlier this month. Can you give me some details about studying in Japan, the likely costs and career prospects?
ó Nikhil Verma