M A I N N E W S
Bloody homecoming for Benazir
Blasts kill over 80
Karachi, October 19
Over 80 persons were feared killed in two explosions today that occurred along the route of the motorcade of former Prime Minister Benazir Bhutto who returned to Pakistan after eight years in self-exile, Pakistani television channels reported. The channels reported eye witnesses as quoting 80 persons had died in the blasts, though there was no official confirmation on the casualties. The channels showed a few bodies lying scattered on the ground while some were being removed by rescue workers.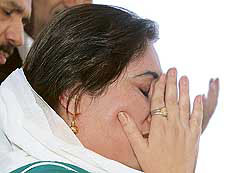 HOME TEARS: Former Pakistani Prime Minister Benazir Bhutto cries as she lands at Karachi international airport on Thursday. — AFP photo
Those feared killed in the explosions that rocked Karsaz area of the port city were part of Bhutto's massive motorcade. The blasts also sparked a fire in a jeep that was ahead of the armoured truck in which the former premier was travelling with close aides, Geo TV reported. Pakistan People's Party officials were quoted by the channels as saying that Bhutto, who is facing death threats from pro-Taliban militants, was safe.
Earlier, an emotional and tearful Benazir returned today to a jubilant welcome. Bhutto (54), who described her return as a "miracle", sobbed as she descended from the plane bringing her from Dubai at the Karachi International Airport amidst tight security.
"I believe in miracles, my return home is a miracle," Bhutto declared as the Emirates plane brought her to the port city of Karachi from Dubai.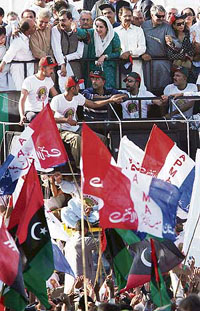 Former Pakistani premier Benazir Bhutto waves to supporters as she starts a procession upon her arrival in Karachi, on Thursday. Bhutto began her procession through Karachi to greet hundreds of thousands of her supporters on her return from eight years in exile. — AFP photo

Bhutto, said: "I am excited and overwhelmed. I dreamt about this moment for so long. I hope I can live up to the expectations of the people of Pakistan."
"I'll get the country rid of military dictatorship. I haven't come to rule the country but to serve my people, to serve them with all my abilities," she said.
The image of Pakistan as a breeding ground for terrorists behind attacks in the West was a "wrong" one and the people wanted to build a strong democratic set-up that would help change the country, she said.
It felt "very good" to be home, Bhutto said as she waved to her supporters, who broke through a security cordon and ran towards the runway dancing and shouting while she alighted from the plane.
Bhutto's flight landed in Karachi at 1.45 pm local time (2.15 pm IST) but she was unable to leave the airport till about 3.30 pm, mainly due to the thousands of supporters who choked nearby roads.
Before planting her foot on her home soil, Bhutto, who returned despite death threats by al-Qaida and request by President Pervez Musharraf to delay her homecoming, cried and paused on the last step of the aircraft.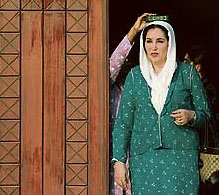 In Dubai a relative places a copy of the Koran on Benazir's head as she leaves for the airport to return home. — AFP photo

Later she embarked on a procession atop a specially modified lorry with bullet-proof screens to wave to her supporters who chanted 'Welcome Bhutto', 'Long Live Bhutto'. Bhutto's motorcade made its way along the Sharae Faisal avenue at a snail's pace, as jubilant PPP supporters danced to frenzied drum beats and sang songs in Punjabi, Urdu and Pushtu that were specially composed to welcome her.
Hundreds of her supporters lined at fly-overs and roofs of high-rise buildings, creating worries for security personnel deployed along her route as her motorcade headed to the mausoleum of Jinnah.
The scenes of celebration were beamed live by all TV news channels, with all programming devoted to Bhutto's return.
Ahead of her arrival here, Bhutto told reporters at the Dubai airport that: "I believe in miracles and my returning home is a miracle." She said Pakistan was standing at the crossroads of dictatorship and democracy.
"I am going home with a message of change and hope for a better future for democracy and I hope that this moment for democracy succeeds...." — PTI