Goddess & Gaiety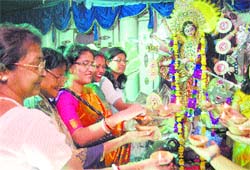 Durga Puja celebrations are in a full swing in the holy city. — Photo by Rajiv Sharma
Transfer Blues
Health dept staff to gherao CMO office
Amritsar, October 19
The Punjab Health Department Subordinate Offices Clerical Association (PHDSOCA) would gherao the office of the chief medical officer, Amritsar, on November 12 if the state government failed to cancel transfer of employees by November 10. Stating this to the media, association president Sushil Kumar Devgan said the transfers were being ordered by state health minister Laxmi Kanta Chawla under political vendetta. He said all the employees, who had been transferred, had no complaint against them and even their annual confidential reports did not include any complaint against them. He said they would also hold a rally from CMO's office to Government Medical College.


Dragon adds sparkle to Divali celebrations
Amritsar, October 19
This festival season, city residents have found an easier yet more effective way of illuminating their homes. Adding the extra spark to the Navratra and Divali celebrations is a bit of Chinese technology.




A whole new range of electric lamps are available in the market. — A Tribune photograph

Chinese Lights Making Waves

Car-scooter collision leaves woman dead
Tarn Taran, October 19
Kanwaljit Kaur (35), a resident of Dasuwal village was killed while her husband Gursewak Singh received serious injuries when their scooter was hit by an Indica car at Bhura Kona village last evening. The Khemkaran police has registered a case under sections 304-A, 337, 338 and 447, IPC, against the driver of the car who ran away from the scene.
'Do away with populist measures'
Amritsar, October 19
Welcoming the statement of finance minister Manpreet Singh Badal, S.S. Chinna, chairman of the Punjab Police Pensioners Welfare Association, said the time had now come for the political leaders of the state to do away with the freebies provided to the farmers and the downtrodden strata of society. He said providing subsidies to the farmers would not improve their lot as it would not help them to come out of the financial mess.Badal in an interview to an English daily had urged the top leadership of the state for preparing themselves to take harsh measures to do away with the populist agenda. However, the finance minister was not for cutting all subsidies.
State's financial health dwindling: Ex-speaker
Amritsar, October 19
Former deputy speaker of Punjab Vidhan Sabha Darbari Lal has asked the SAD-BJP government to issue a white paper on the financial position of the state so that the public could know where they stand.
Science fair: City school wins laurels
Amritsar, October 19 Holy Heart High School bagged four first prizes in the science fair organised by the Department of Science, Punjab, at Hindu Sabha Senior Secondary School here.
Workshop on sports excellence on Oct 29
Amritsar, October 19
The Department of Physical Education (Allied Teaching) of Guru Nanak Dev University would organise a two-day workshop on "sports excellence" on October 29 and 30.Director of sports and coordinator of the workshop Kanwaljit Singh said the workshop was being organised for the first time in this region under the aegis of the Centre of Excellence in Sports Sciences established by the UGC keeping in view the commendable sports achievements of the university. He said more than 150 physical education teachers and coaches from various universities and colleges would participate in the workshop. — OC