PUNJAB

HARYANA

JAMMU & KASHMIR

HIMACHAL

REGIONAL BRIEFS

NATION

OPINIONS

MAILBAG

BUSINESS

SPORTS

WORLD
Saturday, October 20, 2007, Chandigarh, India
Updated at 3:00 am (IST)

Pakistan mourns its dead in twin blasts at Bhutto rally in Karachi; toll mounts to 139
Benazir blames elements within govt
Islamabad, October 19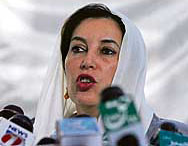 Former Pakistan premier Benazir Bhutto today declined to divulge names but said "remnants" of Gen Zia-ul-Haq had masterminded the bomb attacks on her homecoming convoy in Karachi yesterday which left 139 persons dead and over 500 injured.
Benazir Bhutto speaks to mediapersons during a news conference in Karachi. — Reuters photo


Gen's promise


Editorial: Blast in Karachi
World page: Toll in Karachi blasts mounts to 139


Global condemnation


Zardari blames IB


Advani calls up Bhutto



Pakistani mourners pray during a funeral ceremony in Karachi on Friday for two people killed during a suicide attack targeting former Prime Minister Benanzir Bhutto's caravan. — AFP photo
CAST YOUR VOTE
Do hockey players deserve a better deal?

ADVERTISEMENT

CHANDIGARH

LUDHIANA

JALANDHAR

DELHI

HIMACHAL PLUS

HARYANA PLUS

AMRITSAR PLUS

LIFESTYLE

BRIDES WANTED

GROOMS WANTED

OTHERS

HOW TO PLACE ADVTS

'Bomber ran into crowd & blew himself up'
It is estimated he had 15 to 20 kg of explosives strapped to his body
Karachi, October 19
The Pakistan government blamed Islamist militants for twin blasts early on Friday as opposition leader Benazir Bhutto drove through masses of supporters in Karachi.
PM to Mush — A dastardly act
New Delhi, October 19
Prime Minister Manmohan Singh today sent a letter to Pakistan President Pervez Musharraf wherein he condemned the Karachi bombings and expressed his deep concern.
Gujarat mantra: 'Chak De Congress'
New Delhi, October 19
The Congress is the latest to join the long list of those inspired by the recent Shahrukh Khan starrer "Chak De India". Adapting the title for the upcoming crucial Gujarat assembly elections, the party's new slogan, "Chak De Congress" is set to resonate in its poll campaign to be launched by Congress president Sonia Gandhi in Vadodra on October 30.

| | |
| --- | --- |
| | PUNJAB: Farmer unions lift dharna |
| | HARYANA: Answerbook tampered with: Law student |
| | HIMACHAL: School education board reschedules exams |
| | |
| | CHANDIGARH: Con man gets police custody |
| | LUDHIANA: Poor quality of seeds ruins crops |
| | DELHI: Fire in puja pandal |
| | OPINIONS: Blast in Karachi |
| | BUSINESS: Ban PNs, says CPM |
| | NATION: India rejects Pak proposal for nuke restraint regime |
| | |
| | SPORTS: Opportunity for Sehwag |

E - Revolution 2005:
A Two-day IT conclave

Assembly Elections - 2005

Turbans

Chandigarh is 50

125 Years of The Tribune
India: The Tasks Ahead

EARLIER FEATURES


Nuke deal put on hold: Basu
Kolkata, October 19
The UPA government was "about to fall" over the Indo-US nuclear deal, according to veteran CPM leader Jyoti Basu, who said today that the government had now "accepted" the Left's stand to put on hold the deal.
BJP hits back at PM, calls him a weak leader
New Delhi, October 19
Launching a fresh personal offensive against the Prime Minister, the main opposition party countered the charges levelled by him against the NDA-led government yesterday one by one and rubbished them as "a creaky response of a crumbling government."
Gold at Rs 10,000 as stocks fall
New Delhi, October 19
Gold shot up to a 17-month high of Rs 10,000 per ten grams on the bullion market today on heavy seasonal demand amid funds getting diverted from crashing stock markets.


Rs 250-cr plan for Amritsar
Subsidies to stay


Amritsar, October 19
Giving clear indications of not rolling back the subsidies given to various sectors, as suggested by finance minister Manpreet Singh Badal, Chief Minister Parkash Singh Badal announced here today that his government was committed to the implementation of the party manifesto.
In Sports Tribune today
In Amritsar Plus today
HOROSCOPE
Bloody homecoming for Benazir
October 19, 2007

Bloodbath on Dalal St.
October 18, 2007

Khalra murder: Life term for 4 cops
October 17, 2007
Police clueless; 25 questioned
October 16, 2007
6 killed in Ludhiana cinema blast
October 15, 2007
Patil: Blast link beyond the border
October 14, 2007
PM: Failure of N-deal won't be end of life
October 13, 2007
Displaced to be made stakeholders
October 12, 2007

2-phase poll in HP, Gujarat
October 11, 2007