Great Expectations
Buyers and builders pin their hopes on the realty regulatory proposal, writes S. Satyanarayanan
S

trong

economic growth, rising income levels, growing middle-class and improving transparency has brought resurgence for the Indian real estate sector. The increasing urbanisation, changing demographics and nuclearisation of Indian families have led to an unprecedented demand of housing units. The lucrative returns ranging from 12 to 30 per cent coupled with cheap and easy availability of funds have seen people from all walks of life investing in the Indian realty.
Another feather in Haryana's cap
First northern state from where IT SEZ will get operational,Aarti Kapur reports from Gurgaon
H

aryana

will be the first state of North India where the first IT special economic zone (SEZ) at Gurgaon, will become operational by the end of this month.Sources in the Industry Department said that three major IT giants which includes WNS global service, Genpact and Accenture have already occupied around 75,000 sq ft space in the first phase of the DLF cyber city coming up in the state.Officials associated in the project revealed that DLF cyber city is spread on 5 million sq ft of land, which come out to be around 26.5 acre. The first phase of the cyber city will have three blocks.
GRound REALTY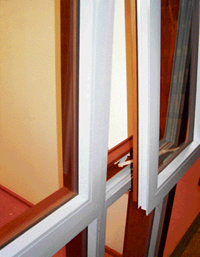 Step through readymade doors
Jagvir Goyal suggests eight checks before you go in for prefabs
We are passing through a 'ready to use' era. The world has caught speed and readymades are preferred over raw materials to avoid all the fuss. There is ready to eat food and so are readymade clothes. Similarly, we now have ready to install shutters! Soon, everyone will prefer ready-to-live house instead of taking all the trouble of building a house.
TAX tips
HRA exemption and housing loan deduction can go side by side
Q. I am working in Gurgaon and claiming house rent allowance for the rented house occupied. I intend to buy a flat in Chennai, a place to which I belong. I want to self-occupy this house. The place would also provide residence to my parents. I have raised loan from bank for buying the said flat in Chennai. Can I get a deduction of the house rent allowance as well as of the interest on the loan raised for buying Chennai property?
Weavers go hi-tech
Computers are being used to design Kashmiri carpets, says Ehsan Fazili
H

ave

you ever thought of a weaver, who makes curtains, wall hangings and carpets, getting computer-savvy? This is what is exactly happening in Kashmir, the state known for carpet weaving and exquisite craftsmanship. Interior decoration around the world is all set to be redefined as traditional carpet weaving switches over to computer-aided design in Kashmir.

Photo by Amin War
Realty to be $90 b business by 2015, says Assocham
The base of Indian real estate market, growing at 30 per cent, is likely to touch $90 billion by 2015 from the current level of $14 billion and help economy continue to grow between 9 to 10 per cent, according to a study.
Scanty infrastructure, abundant rentals
Influx of temporary workers has jacked up house rents in Panipat, says Vishal Joshi
G

radual

growth of the industrial activities in this commercial township has propelled rents in various residential pockets of this poorly developed area. The town, located along the GT Road, is witnessing a heavy rush of "shifting population" but has miserably failed to provide quality shelter.According to those engaged in the real estate business, local house owners are minting money by renting out their premises.


Photo by Ravi Kumar