THE Nehru-Gandhi family, without doubt, has always been the first family of India. It produced three prime ministers, the first woman ambassador and the first woman to preside over the United Nations General Assembly. Dozens of books have been written on the elite family members. But the first insider who wrote about their early years was Nayantara Sahgal, Pandit Jawaharlal Nehru's niece and daughter of his sister Vijayalakshmi Pandit. Her Prison & Chocolate Cake was published half a century ago. It was translated into many foreign languages because people the world over wanted to know about the emerging India and the leaders guiding its destiny. It is being re-published by Harper Collins.
Nayantara begins her narrative with her childhood years in family mansion Anand Bhawan in Allahabad and vacations in a Sylvan village, Khali, near Almora, bought by her scholarly self-effacing Maharashtrian father. Anand Bhawan had become an open house for leaders like Mahatma Gandhi, Maulana Azad, Madan Mohan Malaviya, Sarojini Naidu, Pandit Pant and others. There was always a crowd at the gate waiting to catch a glimpse of them. There was little privacy. After they had finished schooling, Nayantara and her sister were packed off to the US in 1943. World War II was at a critical juncture. The girls went by a troop ship which, to dodge German U-boats, took a route to Australia, New Zealand and then to the West Coast of the US.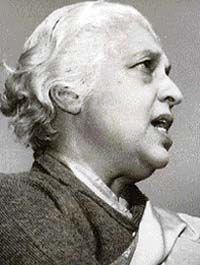 Vijayalakshmi Pandit: Indira Gandhi refused to appoint her as High Commissioner to London
Nayantara took with her a scrap-book full of quotations from her uncle Jawaharlal Nehru's speeches and writings. One was pertinent: "Wherever in this wide world there goes an Indian, there goes a piece of India with him. He should not forget this fact. It lies within his power, to some extent, to bring credit or discredit to his country, honour or dishonour". Nayantara bore this message in her mind for the four years she was in Wellesly College and during her extensive travels across the States in her vacations.
Homes of eminent personalities like Pearl Buck and Paul Robeson were open to her because she was Nehru's niece. She lived up to her uncle's ideals. When she returned home, she was received by Indira Gandhi at Palam airport and stayed with her uncle, who had become India's first Prime Minister.
She was with him the day Mahatma Gandhi was assassinated. She ends her narrative with the tragedy.
Nayantara is too genteel to allude to tensions that developed between members of the first family. Indira Gandhi never liked her aunt Vijayalakshmi Pandit, nor Nayantara. When she became Prime Minister, she refused to appoint Vijayalakshmi Pandit as High Commissioner to London… though specifically requested by the British Prime Minister. When Morarji Desai became Prime Minister, he appointed Nayantara as Ambassador to Italy.
The first thing Indira Gandhi did on resuming office was to cancel the appointment. Indira Gandhi had a streak of vindictiveness. Nayantara was too ladylike to allude to slights she suffered at the hands of her first cousin. I hope some day she will write a sequel to Prison & Chocolate Cake and come out with the truth of the bitter family feud.
Shirazi banquet
J.M. Rishi, industralist of Jalandhar, is into making money, playing golf, Urdu poetry and spiritualism—whatever that means. He periodically puts his thoughts on paper and mails them to me. We have never met. In his last missive he wrote about Shaikh Saadi's encounter with a Hindu divine during his visit to India. I was unable to grasp the moral of the message the learned Shaikh meant to convey.
He was invited to a meal and a feast laid out in his honour. Far from thanking his host at the end of the meal, Shaikh sahib remarked: "Daavat-e-Shiraz kuchh aur hai (a Shirazi feast is something different)".
Dismayed, the Hindu divine invited Saadi again and again, adding more tasty dishes to the lavish spread but got the same response—-"Daavat-e-Shiraz kuchh aur hai. " Some years after Shaikh Saadi had returned to Shiraz, the Hindu divine called on him and was invited to a meal. He was served daal and naan. The same fare was laid out at subsequent meals. The exasperated guest asked: "Shaikh sahib, what is the Shirazi feast you talked so much about to me in India?" Unabashed, Saadi replied: "This is it. What a person eats every day, he should offer his guests. No formality, no showing off, no strain".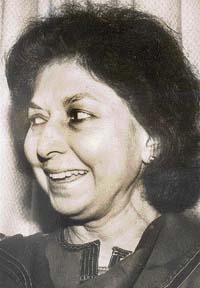 Nayantara Sahgal: Indira Gandhi cancelled her appointment as Ambassador to Italy
I admit I don't catch the message. At lunch all I have is a cup of vegetable soup and raw cucumber-cum-tomato. If I offered the same to my guests, most of them would leave early to eat a proper meal.
J.M. Rishi's story sounds very much like a Barmecide's feast. King Barmecide was known to have banquets where gold plates and silver goblets were laid out for the guests. But no food was served. All he earned in gratitude was having his name immortalised for meanness.
More elevating than the story of Daawat-e-Shiraz in Rishi's letter were a few quotes from Saadi rendered into Urdu: Voh ghum jis kay baad tujhey khushee hasil ho, Uss khushee say achha hai jis kay baad to ghamgeen ho (Sorrow that is followed by joy is better than joy which is followed by sorrow).
Gauhar agar keechar mein gir jaaye toh bhee qeemati hai, Aur gard agar aasmaan par charh jaaye toh bhee beqeemat hai (A jewel even though it falls into the mud remains valuable; dust even though it goes up to the sky remains worthless).
Name & surname
Gagan Deep Singh: "Papa, can one have the same name and surname?''
Papa: "No beta, it is not possible".
Gagan: "It is possible, papa. If film actress Lara Dutta marries the cricketer, Brian Lara, then her name and surname will be Lara Lara".
(Contributed by J.P. Singh Kaka, Bhopal)