COLUMNS



THIS ABOVE ALL

TELEVISTA

GOOD MOTORING

AUDIO SCAN

MUSIC ZONE

WEBSIDE HUMOUR

FOR CHILDREN



CROSSWORD

RHYME TIME

ROOTS
Boozers' paradise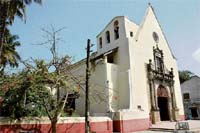 Daman has a glorious history that spans millennia. It saw empires and invaders come and go, leaving little marks on its otherwise vibrant culture, art and tradition. It is, however, not the rich cultural heritage that attracts tourists to the Union Territory. The main attraction of this place with 10 distilleries remains liquor, says A.J. Philip
UNTIL a few years ago, gigantic chimneys billowing thick black smoke was a sign of progress but today they are considered a health hazard. As the Kalka-Mumbai Paschim Express passed through India's "Golden Corridor" — a 400-km belt of industrial estates in Gujarat that include Nandesari and Ankleshwar — to reach its southern end town of Vapi, I was amazed by the kind of industrialisation taking place in the state.
Dreamland for job-seekers
Young foreigners in diverse fields are looking for jobs in India, reports Ruby Nanda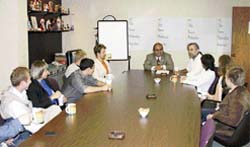 Whether it is a challenge they are seeking or an opportunity to boost career prospects back home, young foreign nationals, on the threshold of a new career, are taking up jobs in India even in fields other than the IT industry.
The fast-growing Indian economy is a big incentive for expatriates
Raj at Riverdale
Minu Jain
THE ubiquitous Indian dream has just come true in the all-American world of Archie and his friends. But Raj Patel, his doctor father, research scientist mother and brainy beautiful sister do more than just embody the Indian dream — they shatter the Indian stereotype too.