Boozers' paradise
Daman has a glorious history that spans millennia. It saw empires and invaders come and go, leaving little marks on its otherwise vibrant culture, art and tradition. It is, however, not the rich cultural heritage that attracts tourists to the Union Territory. The main attraction of this place with 10 distilleries remains liquor, says A.J. Philip

EXOTIC LOCALE: The Kadaiya resort in Daman is a favourite destination for tourists — Photo by the writer
UNTIL a few years ago, gigantic chimneys billowing thick black smoke was a sign of progress but today they are considered a health hazard. As the Kalka-Mumbai Paschim Express passed through India's "Golden Corridor" — a 400-km belt of industrial estates in Gujarat that include Nandesari and Ankleshwar — to reach its southern end town of Vapi, I was amazed by the kind of industrialisation taking place in the state.
However, for all its fame as an industrial hub, Vapi was a great disappointment. The railway station, which also provides the nearest rail link to the Union Territory of Daman, does not have even proper cement benches. On Platform No. 2, where I alighted, there were only brick structures with no cement plastering to serve as benches.
Dust and fumes enveloped the town as we clambered into a Scorpio to reach our destination. And as the air-conditioner was switched on, dust was literally thrust into our nostrils, much to our discomfort. We had the first Vapi effect.
Having gone from Chandigarh, one of the first planned cities of India, it was easy to conclude that planning had never been a strong point of Vapi. Buildings were allowed to come up wherever there was a little land.
The multi-storey flats built by a Gujarat Government agency for the industrial workers in the heart of Vapi are the greenest that I have ever seen. Thick green moss covered the walls while weeds and little banyan branches grew from every joint and crevice, giving the buildings a "green cover". A little shake is all that they need to provide the media a grisly story of a building complex turning into a mass grave.
The road we took was in such a pathetic condition that it had more potholes than even surface. "The roads were all washed away by the rains, which continued until the other day. Now, we will have to wait for several months before they are repaired and tarred. And by the time the work is over, the rains would have come destroying the roads again. This cycle continues year after year as government employees and their contractor-brethren line their pockets", explained my host.
Vapi gets heavy rainfall every year. Concreting of roads is the only solution but vested interests would not allow it, as it would deprive them of ill-gotten profit. It required considerable driving skill to negotiate the road that led to the colony where my host stayed. The road was not just undulating; it resembled the picture of moon Neil Armstrong had sent to earth.
When we said a polite "no" to the glass of water the lady of the house served, she understood the reason. "This is boiled water. So it is safe to drink". Little did she know that we had read a report by the Blacksmith Institute, which ranked Vapi as one of the 10 worst polluted cities in the world.
Boiling water would not remove mercury, which was 96 times higher than the World Health Organisation standards. If I write about all the chemicals and other impurities found in the water in Vapi, it will run into several paragraphs. Suffice it to say, my wife had thoughtfully brought a few bottles of Chandigarh water. But for the residents of Vapi, they have no choice but to drink the polluted water.
On paper, there is the Vapi Waste Management Company that operates common effluent treatment plants that collect and purify effluents from polluting industries. Treating effluents is costly. It is far more cheaper to dump them in the drain and they would eventually find their way into the innards of the earth or into the meandering Damanganga and the Kolak.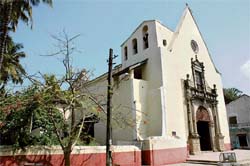 Oldest church in Daman: The Church of Holy Jesus
Water downstream of the Kolak is unable to support much biological life. Not that efforts are not made to tackle pollution. Corruption and supreme unconcern for public health stand in the way when every public place is treated as a dumping ground and sludge and waste are directed to all streams that pass by.
Everybody in Vapi wants to leave the town. In fact, it is the best city to fly away from, despite all its prosperity. Of course, it attracts penniless workers from places as far away as Uttar Pradesh, Bihar and Kerala. There are several paper manufacturing plants in Vapi for which raw materials come from abroad. For the thriving steel rolling mills in Vapi, the ships broken at Alang are a source of raw material.
I saw in one industrial unit, part of a ship becoming a huge drum for a fruit-pulp manufacturing company. "The ship would have carried dangerous chemicals". This was the thought that came to me as I watched the metamorphosis happening in front of me. "The steel sheets from ships are better than the new ones available in the market, and that too at one-third of the price", reasoned the entrepreneur who has spent his life making boilers.
Like many others, my host assumed that I was a boozer because of my profession. "All journalists and writers, I believe, love the heady stuff". Having just organised the engagement ceremony of his daughter, he was in a mood to celebrate. "Let's go to Daman".
Daman is to Vapi what Chandigarh is to Mohali in Punjab and Panchkula in Haryana. Gujarat is a dry state. Prohibition has been in force for as long as people can remember. The logic of retaining prohibition is that it was in this state that Mahatma Gandhi was born. It is a different matter that the Mahatma's links with the state did not deter the wanton violence Gujarat witnessed five years ago in the wake of Godhra.
Gujarat is dry but this does not mean Gujaratis are not fond of liquor. The per capita consumption of liquor is the highest in Kerala where the tipplers start drinking from early in the morning. In Punjab, which is closely behind the southern state, people mostly drink only in the evening. Thanks to prohibition, Gujjus cannot drink as freely and in as much quantity as the Mallus and the Punjus.
However, their condition is not all that desperate. Daman is situated just six kilometres from Vapi railway station. Drive through a huge welcome arch and one is verily in a Boozers' Paradise. What strikes the visitor most on entering Daman is the array of liquor shops and restaurants on both sides of the road. It is doubtful whether there is any other place in India which has as many liquor shops as Daman.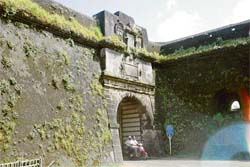 SILENT SENTINEL: The gate to Daman Fort
There is a relentless flow of vehicles from Vapi to Daman, particularly in the evening. All the restaurants and liquor shops do a brisk business and a large number of cars, two-wheelers and tempos can be seen parked in front of them. Sea fish is available in plenty. There is an eating joint adjacent to every liquor shop so that people can buy liquor, take it to the joint, order some food, mostly fried fish, and drink to their liver's content.
At one of the shops, I met a thin boy. He was hardly 14. He had a big plastic bag in which he was stuffing several quarter bottles of cheap liquor. It was obvious that the bottles were not for his consumption. He was either a carrier or a smuggler. All he has to do is to carry the consignment across the "border". In Vapi, the same liquor would fetch at least double the price. Thus on an investment of, say, Rs 500, a return of Rs 500 is certain.
The day I visited Daman, I did not find anyone manning the checkpoint. "Even if the police is there, they know the smugglers because they pay them their regular hafta", said my host. For those who want liquor in Vapi, there is plenty of it, courtesy smugglers like the boy I accosted.
This is not a new phenomenon. Daman has been a favourite haunt of liquor smugglers. Like Goa, Daman and Diu were under Portuguese occupation till 1961 when India liberated them by force. I read on the Internet an entry in the diary of an East India Company clerk, which mentions that Portuguese Daman was famous for its liquor shops and liquor flowed freely into British India through smugglers.
Daman still lives up to its reputation. It has "10 distilleries" producing "42,000 kilolitres of liquor" for a small population of 1 lakh. No, the liquor is all meant for export. It is smuggled even to Maharashstra, where thanks to higher taxes, it is costlier than in Daman.
A colleague's son who studied in Ahmedabad often visited the island of Diu, which is also part of the Union Territory though separated by hundreds of kilometres, to buy liquor. What is notable is that prohibition is a sham in Gujarat. Those who want to drink, get their quota, although at a premium. Instead of the liquor shops, we headed towards the Devka beach.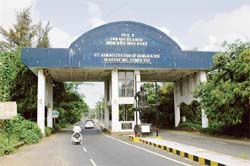 What strikes the visitor most on entering Daman is the array of liquor shops and restaurants on both sides of the road. It is doubtful whether there is any other place in India which has as many liquor shops as Daman.
Night had fallen when we reached the beach. Unlike the beaches in Goa, Kovalam and Puri, Devka had little to offer. The sand was black. Shacks on the beach sold liquor on the sly and seafood in the open. The sand was littered with beer bottles and liquor cans. With little to savour and visibility so low, we decided to move on.
We headed towards Kadaiya, where the UT Tourism Department has set up an exotic resort. Around the resort was an artificial lake where ducks and geese luxuriated, while couples on honeymoon enjoyed cruising in pedalled fibreglass boats. To see Daman in detail we had to return the next day.
Daman has a glorious history that spans millennia. It saw empires and invaders come and go leaving little marks on its otherwise vibrant culture, art and tradition. The Portuguese and, before them, the Muslims ruled Daman from the comforts and safety of a fort which today accommodates the UT Secretariat, and churches as old as four centuries.
It is not the rich cultural heritage that attracts tourists to the Union Territory where the taxes are so low that vehicle owners even in as far away as Punjab prefer to buy vehicles from Daman. However, the primary attraction remains the booze. Three days of stay was enough to savour the delights of Vapi. And when we boarded the return train, we genuinely felt that Vapi was the best place to get away from.