Hiccup after the Cup
The Twenty20 victory has already become history. Team India must remove the chinks in its armour at the earliest to make an impact during the rest of the season, writes Ivninderpal Singh
Just a few weeks after the Twenty20 World Cup triumph, Team India has been made to realise that the 50-over version is an altogether different ball game.


Mahendra Singh Dhoni was let down by Team India's notorious inconsistency; Andrew Symonds proved to be Australian skipper Ricky Ponting's trump card in the series — Photos by Reuters, PTI
All set for F1 climax
THE stage is set for the grand finale of the most closely contested Formula One season since 1986. Britain's Lewis Hamilton, Spain's Fernando Alonso and Finland's Kimi Räikkönen are all in the fray for the World Championship title. Hamilton, the 22-year-old sensation in his first season, leads McLaren team-mate and double world champion Alonso by four points, with Ferrari's Räikkönen a further three behind at 100 points.
Lewis Hamilton
The F1 rookie has won the Canadian, US, Hungarian and Japanese Grand Prix this year. The Briton will certainly clinch the world title on debut if he finishes first (10 points) or second (8) in the season-ending race.
Fernando Alonso
The two-time world champion has triumphed in the Malaysian, Monaco, European and Italian GP. The Spaniard will pocket his third title if he wins the last race in Brazil and Hamilton fails to get a podium finish.
Fernando Alonso
The "Flying Finn" has raced to victory five times during the 2007 season (Australia, France, Britain, Belgium and China). Has to win the concluding race and pray that the other two top contenders slip up in a big way.
Leading light
M.S. Unnikrishnan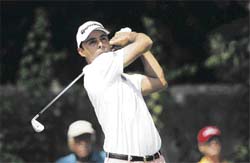 LIKE a lean and mean machine, which works with clock-work precision, Jyoti Randhawa rarely falters at the Delhi Golf Club course. He proved his mastery over the greens and hazards of the course yet again when he retained the Indian Open title for his third win. He thus equalled the record of Australian legend Peter Thomson, who had won the Indian Open in 1964, 1966 and 1976, and helped redesign the DGC course.
Jyoti Randhawa struggled initially on the Delhi Golf Club course, but he got his act together when it mattered the most to clinch the Indian Open title — Photo by AFP
IN THE NEWS
Adieu, gentle giant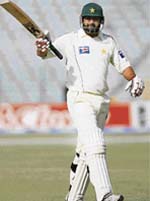 NOT many of Pakistan's great cricketers have been given the opportunity to retire gracefully in front of their own people. Inzamam-ul-Haq was fortunate to get this honour at the Gaddafi Stadium in Lahore, where he made he debut 17 years ago and played his final Test innings. He failed with the bat, scoring just three runs and facing only two balls in the second innings, but the honour given to him by his team-mates, rival South Africans, the Pakistan Cricket Board and the spectators was memorable.

Inzamam carved a niche for himself as one of the greatest batsmen in contemporary cricket — Photo by Reuters