Brave new artscape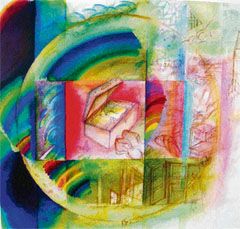 Contemporary artists from India have returned to picture-making with a new idiom. There are many stories to tell and various ways to tell them, finds out
Betty Seid
In his essay, "Reading for the Plot," Peter Brooks discusses how narrative is the means we use to order and give meaning to our lives, in effect to overcome and control the chaos that is human existence.

Gulammohammed Sheikh. Book of Journeys, 1996 onwards. Digitally reproduced 36-page bound book in accordian format; ink-jet fascimile images on Arches 300 GSM watercolour paper. His Book of Journeys is an autobiographical trip that returns again and again to the idea of home.

From metal to form
There are very few skilled craftsmen who are engaged in repousse work on brass and copper, writes Kanwarjit Singh Kang
The bronze statuette of a young dancing girl from the Indus Valley civilisation has been classed as a remarkable piece of art, wrought in metal. Art apart, the metal, particularly brass, has remained the most important utility object in India since time immemorial.
Tugging at the moon
The moon is the Earth's satellite and the Blue Planet's gravity should keep it perfectly in its orbit, that's what logic says. But the moon has an inexplicably loony, eccentric orbit. Now, a new study of the moon's orbital history has shown that Earth's sister planet, Venus and gas giant Jupiter takes turns to tug at the moon on rare occasions when their distant and puny gravitational tugs can have an effect.
Crocodiles actually weep
A new study has authenticated the phrase "crocodile tears" by discovering that crocodiles really do weep while eating but it is purely physiological reasons that makes them bawl. A researcher of University of Florida observed and videotaped four confined caimans and three alligators, both close relatives of the crocodile, while eating on a spit of dry land at Florida's St Augustine Alligator Farm Zoological Park.
Island in the sun
Global warming may result in low-lying coastal areas, including the Sunderbans, getting submerged eventually. But at another level, a natural source like sunlight is changing the life of millions of people in the islands, finds Ranjita Biswas

Adnan Sami's new avatar
Amit Kumar Das
After composing and singing for numerous Bollywood films, versatile singer Adnan Sami has now decided to take the microphone once again but this time as an anchor. He will be hosting a television show called Bol Baby Bol which will go on air later this month.
When will we see English Guide?
Dipankar De Sarkar
The only known surviving print of the rarely-seen English version of the Bollywood movie Guide is in the possession of Dev Anand — and he may just agree to release it one day for public viewing, the evergreen superstar disclosed.
Small is big
The increasing number of medium and small-budget films reflect the changing face of Bollywood, writes Seema Sachdeva
Divali is round the corner. The festive season has always been the best time for film releases. However, it is for the first time that the Indian audience is being offered a plethora of small budget films in the coming weeks.
'Krrish 3 to have powerful villain'
Subhash K. Jha
Director Rakesh Roshan says the villain's character in Krrish 3 will be as powerful as Hrithik's character. "This time the anti-hero will be as powerful as the hero. Krrish saw the birth of the superhero. Now we'll see the superhero combating other forces," Rakesh Roshan said. In Krrish, veteran actor Naseeruddin Shah had played the villain. Rakesh is busy creating his first production for an outside director.


SOCIETY
Greening of a dump yard
Eleven women of Warangal district in Andhra Pradesh have converted a barren piece of land into a garden producing fruits and vegetables, writes Usha Turaga-Revelli
Ravana has his temples, too
There is a Ravana temple at Kanpur which is opened only once a year during Dasehra for worshipping the demon king, says Vinaya Kumar.
Diamonds are forever
Designer Priti Patel feels that danglers & rings with diamonds will be popular this year, writes Vimla Patil
Priti Patel is a diminutive woman who sits ensconced in her plush design studio in Mumbai, seeing clients only by appointment.