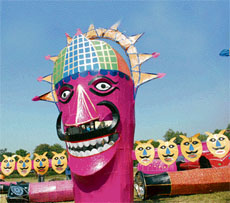 Ravana spin
Eight symbols of evil, hi-tech effigies & a structured Lanka, Dussehra celebrations get bigger and better...
Dussehra's all set to present a picture of blown up pleasure in the festive season of 2007. Wondering how? Well, this time more than just the three symbols of evil will go up in smoke. Five more effigies will be blown apart. And, from the ashes of the evil will rise hope for an auspicious year. Oh no, fellows! The effigies have nothing to do with corruption or other ills afflicting society.
Tribune photo by Pradeep Tewari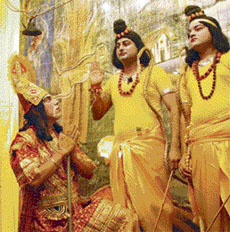 Pious Path
Smoking, dining, wining & comforts will have to wait during Ramlila, dedicated artistes tell Saurabh Malik
Living up to the image of a goddess in Ramlila days makes him all the more pious. Devoted to the ten-day role he plays annually, Devinder Kumar of Sector 29 refuses to even touch a cigarette. So, no wining and dining? Oh, it's a big "no" for this staunch stage artiste. And he does it year after year, devoutly. Right fellows. He may be blowing up in smoke sometimes as many as 12 cigarettes on a "normal" day. But mesmerised by the role he adopts, the pack has no place.
The silver screen is all set to launch the babas and babies of Bollywood

Meet the Star Kids
Fresh faces, unfamiliar names, slight resemblance to yesteryear stars and popular last names. Last, they were spotted clutching their mommies' hand or applauding excitedly at an award function. Meet the fresh brigade of new kids on the block. Children of superstars, they are now geared to create their own stardom. Born with a silver spoon, with a director as an Uncle and an actor Aunt who got them goodies, these star sons and daughters are being launched in rather an opulent way. A couch potato, or not, you couldn't have missed the proud parents going ga-ga over their little ones.

I am a 28-year-old guy working in a private firm. I am attracted to a girl who works in my office. I feel that she is also attracted to me but neither of us wants to make the first move. If I approach her and she rebuffs me it will become difficult for me to face her in the office everyday. I am in a dilemma and my work has started suffering. I feel stressed at office, and can't deal with the situation. Please help.

Rhyme with Reason
A study shuns 'violent' poems like Jack 'n' Jill, Humpty Dumpty. City schools are already on the right track
Your child has barely learnt to say papa and mama, but as an over-enthusiast, you cannot wait to teach him Jack and Jill or Humpty Dumpty. Of course, it is a pleasure to see your child doing all those actions, which your parents made you do in an effort to keep you engaged in a conversation, whenever some guests turned up at your place.

Matka chowk
City Gems
I was at the Sector 17 football stadium on Sunday – enjoying an interschool football match between two local girls school. Sitting under a shady tree and soaking in the new autumn breeze, while watching a nail-biting match, I was struck by the realisation that a lot of our city dwellers have no idea what treasures abound in our city. A full size football stadium, right in the heart of the city, free of garbage (in fact, the ground was spotlessly clean) and ruffians, where matches can be held for children in peace and safely — very few cities can boast of such a feat.

Art Triangle
They have two things in common — first, all three are Defence Officers' wives and they share a love for anything arty. So, the natural progression in the friendship was to explore the third angle — entrepreneurship, and when they found it among themselves, they came up with this company called Genesis that deals with interior designing and art work.

Film & Fashion
Britney does it again
It looks like Britney Spears has landed herself in hot water again, after she ran her car over a photographer's foot. The incidents purportedly took place when the beleaguered pop star was leaving a Beverly Hills medical building. Spears honks, and her car moves forward, apparently driving on a paparazzo's foot. The mum of two stops her vehicle and the group of photographers wave her on and she leaves the place. When the snapper is asked if he is fine, he doesn't reply. Though the man walks off without evident problem, he later found that his foot was broken.

Aiming Tall
Ask him what is the essence of his comedy and pat comes the reply — "Half body and half language". And looking at 4'- 4" tall Amrit Pal with a shy expression and ready wit, the meaning drives home.

First day first show
What a fiasco


Speed
Avoidable
Hubris has always been the strong suit of director Vikram Bhatt. Even after biting the dust umpteen times, he thinks he can't go wrong. He has calmly dished out ten monumental turkeys in a row and is still raring to deliver the mother of them all. Producer Harry Baweja gives him the carte blanche to do so. Harry, too, once had a passion for doling out calamities, you see.