Youth lynched by criminals
Patna, October 21
A youth was beaten to death by the criminals near the pani tanki corner under Srikrishn Puri police station here, late last night. The police today said Ravinder Rai was returning home from a Durga Puja fair when some unidentified criminals attacked him near the pani tanki and lynched him. Raids were on to nab the criminals. — UNI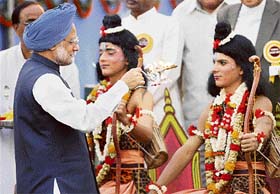 Prime Minister Manmohan Singh performs 'aarti' in front of artistes playing the part of Lord Rama and Lakshmana during Dussehra celebrations in New Delhi on Sunday. — AFP
Preventing Manual Scavenging
Punjab, AP top; Rlys biggest defaulter
New Delhi, October 21
Even as most of the states have faulted in implementing the anti-scavenging law passed by Parliament 14 years ago, there is good news for Punjab and Andhra Pradesh as these two states have brought down the employment of manual scavengers to a zero level.
C'wealth secy-gen: Dr Kaul front-runner
New Delhi, October 21
Dr Mohan Kaul, director general, Commonwealth Business Council, has emerged a front-runner in the race for the Commonwealth secretary-general's post, elections for which are scheduled to be held next month-end at Kampala (Uganda).
Sanjay Dutt may get judgment copy today
Mumbai, October 21
Bollywood actor Sanjay Dutt, convicted under the Arms Act for possession of illegal arms in the 1993 Mumbai serial blasts case, will appear before the TADA Court tomorrow and is expected to be handed a copy of the judgment.
Rizwanur Case
CBI sleuths revisit spot
Kolkata, October 21
Within 24 hours of its first inspection of Patipukur near Dum Dum railway station from where Rizwanur Rehman's body was found, the CBI team, investigating his death, today revisited the spot.
'Marriage not must for relief under Domestic Violence Act'
New Delhi, October 21
Women who are in a live-in relationship can get relief under the Protection of Woman from Domestic Violence Act, a city court has said, asserting that the law was not only for married victims.


Immersions conclude Durga Puja celebrations
Kolkata, October 21
Curtains were drawn today on the five-day Durga Puja celebrations with the Bengalis bidding adieu to the goddess and her children.


An idol of Goddess Durga being immersed in the Ganga at the end of the Durga Puja in Kolkata on Sunday. — PTI photo
DSGMC to print Guru Granth Sahib in US, Canada
New Delhi, October 21
Adding further fuel to the controversy over the printing of the Guru Granth Sahib, the Delhi Sikh Gurdwara Management Committee has decided to print the holy book either in the US or Canada.
Ravana in designer clothes
Patna, October 21
Ravana, Kumbhakarna and Meghnad appeared in a new look during Dussehra here today. The three effigies, which are set ablaze at Gandhi Maidan every year, were seen wearing designer clothes in today's function.
'Five N-plants shut down for want of fuel'
Mumbai, October 21
Five of the 17 nuclear power plants in the country have been shut down and the remaining are operating at an average of less than 50 per cent capacity for want of fuel, a top official of the Nuclear Power Corporation of India Limited said.
Electrocution of Lions
3-day police remand for four accused
Junagadh, October 21
A local court today ordered a three-day police remand to four accused in the electrocution case of five Asiatic Lions at Prempara village in Dhari range of The Gir Sanctury.
Police personnel pay homage to martyrs
New Delhi, October 21
Paramilitary forces and police personnel here paid rich tributes to the martyrs, who laid their lives in the past one year while on duty, on Police Commemoration Day today.
Chiranjeevi accepts daughter's marriage
Hyderabad, October 21
Actor Chiranjeevi today accepted his younger daughter Srija's marriage with her lover Sirish Bharadwaj. In a statement here, Chiranjeevi said he was in a state of shock when he came to know about the marriage.


Bhumika Chawla ties the knot
Nasik, October 21
Bollywood actress Bhumika Chawla today tied the nuptial knot with yoga guru Bharat Thakur in Guru Nanak Dev Gurdwara at Devlali Camp near here. The marriage was performed at a simple ceremony attended by close relatives and friends of Chawla and Thakur. Bhumika Chawla
Rly portal to cover freight services
New Delhi, October 21
After making online ticket booking possible almost in every part of the country, the Railways now plans to extend the facilities to freight and other services and make online information available on every transport-related matter.
6 undertrials escape
Ahmedabad, October 21
As many as six undertrials have escaped after breaking a lock at the sub-jail at Kadi town, in Mehsana district, late last night. According to the police sources, six undertrials involved in bike and cable theft cases escaped after breaking the lock of their cell at the sub-jail at Kadi town.
Zonal chief of banned Maoists arrested
Patna, October 21
In a major breakthrough, the Bihar police today arrested the self-styled zonal commander of the outlawed Maoist near Kothi in Gaya district. The arrested Maoist commander Yogesh Yadav, alias Ravi Ji, was wanted in connection with 45 criminal cases in Jharkhand and Bihar.



Videos
Nagaland teak plantations.
(56k)
Konkona's priority is Ranvir.
(56k)