M A I N N E W S
1997: Connaught Place Shooting
ACP, 9 cops sentenced
Legal Correspondent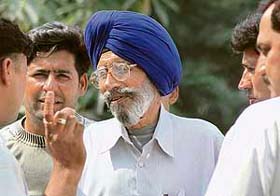 Father of Jagjit Singh, one of the two businessmen killed in the 1997 Connaught Place shooting, at the premises of Patiala House Court, New Delhi on Wednesday. — Tribune photo by Mukesh Aggarwal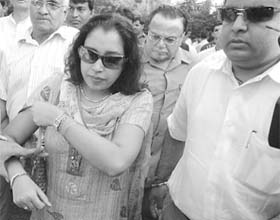 Neema Goel, wife of Pradeep Goel, one of the two businessmen killed in the 1997 Connaught Place shooting arrives to hear the verdict at Patiala House Court in New Delhi on Wednesday.
— Tribune photo by Mukesh Aggarwal
New Delhi, October 24
Delhi Police encounter specialist ACP S.S. Rathi and nine other members of his team were today awarded life sentence by a special CBI court here for killing two Haryana businessmen in the infamous Connaught Place shooting 10 years ago, rejecting their plea for lenient view on the ground that it was a case of mistaken identity.
Additional Sessions Judge Vinod Kumar also rejected the CBI plea for awarding death sentence to Rathi and two constables, Mahavir Singh and Kothari Ram, who pumped 34 bullets into businessmen from Kurukshetra Pradeep Goyal and Jagjit Singh in their car in broad day light at a traffic intersection near Statesman building in Connaught Place on March 31, 1997.
"I sentence them to life imprisonment," judge Vinod Kumr said, adding that they would have to undergo rigorous imprisonment. All the policemen had been put under suspension after the case was registered against them and were currently on bail.
He rejected the the CBI plea for capital punishment to Rathi, who headed the crime branch team and the two constables, not agreeing with CBI special prosecutor S.K. Saxena's plea that their crime fell in the "rarest of rare" category.
The court also rejected the plea of all the policemen for taking a lenient view as their counsel claimed that what they did was not an intentional act but hadmistaken one of the businessmen as a gangster. Their lawyers also took the stand that the policemen had been doing their duty while tracking a dreaded gangster Mohammed Yaseen, who faced several cases of murder and extortion. But this was strongly countered by CBI special prosecutor, who said even then the cops did not have a "licence" to kill had it been the gangster they were hunting for.
Saxena demanded death sentence to the three on the ground that their "culpability" fell in the category of the "rarest of the rare". He particularly raised question on the culpability of Rathi, who was a senior officer having decorated with several awards and was expected to act with utmost care.
But the judge did not agree with his contention and ruled "the prosecution's prayer for death sentence is dismissed."
The CBI counsel did not ask for the death sentence to seven other cops, inspector Anil Kumar, sub-inspector Ashok Ran, head constables Shiv Kumar, Tejpal Singh and constables Sumer Singh, Subhash Chand and Sunil Kumar.
The court, while convicting them on October 16, had said it was fully convinced with the prosecution evidence and even if they would have shot dead Mohammed Yaseen, who was a dreaded gangster, still they would have been held guilty as cops had no power to take the law unto their hands. They certainly had the right of self-defence but when they faced extreme situation and were attacked, the court held.