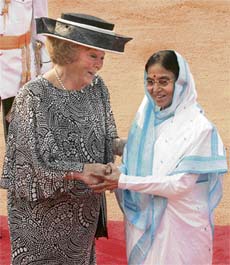 Queen Beatrix of The Netherlands shakes hands with President Pratibha Devisingh Patil during a welcoming ceremony at Rashtapati Bhawan in New Delhi on Wednesday. — Tribune photo by Mukesh Aggarwal
Transfer of corruption case
Sukh Ram moves SC
New Delhi, October 24
Former communications minister Sukh Ram today moved the Supreme Court for transfer of a corruption case against him from a special CBI judge's court to some other judge, alleging that he had "no faith" in him and apprehended that he would not get a fair trial.
SC acquits Punjab ultra
New Delhi, October 24
A Punjab militant found guilty by a TADA court in Rajasthan only for a passport offence as other charges could not be proved against him due to lack of evidence, has been acquitted by the Supreme Court.
Salman appears before HC
Jodhpur, October 24
Actor Salman Khan today appeared before the registry of the Rajasthan High Court here in connection with the Chinkara poaching case. He also marked his presence before a lower court of the city hearing another case of hunting a black buck and a case under the Arms Act against him.
Maya suspends officials after 150 students fall ill
Lucknow, October 24
In response to the incident of 150 Moradabad primary schoolchildren falling sick after eating lunch provided under the mid-day meal scheme, Chief Minister Mayawati today directed that district basic shiksha adhikari (BSA), assistant BSA and SDI be suspended.
UP takes big leap into e-governance era
Lucknow, October 24
With land revenue records of Uttar Pradesh being completely computerised, it is now technically possible to access one's land record from anywhere by paying a nominal fee, informed chief secretary P.K. Mishra.
Senior JD(S) leader holds talks with Cong
Bangalore, October 24
Senior Janata Dal (Secular) leader and former Home Minister M. P. Prakash overshadowed party president and former Prime Minister H. D. Deve Gowda today by announcing that his talks with central Congress leaders over government formation had been positive, and he hoped the two parties would meet up again to form a coalition government in the state.
No groups have staked claim to form govt: Thakur
New Delhi, October 24
Karnataka Governor Rameshwar Thakur today indicated that no elected political group had so far come forward with a proposal in writing to provide an alternative government in the state.
Lalu's rally to boost rail revenue
Patna, October 24
Come October 28 when railway minister and RJD supremo Lalu Prasad is scheduled to address his proposed "Chetwani" (warning) rally against the Nitish government in Gandhi Maidan here, not all roads will lead to Patna, unlike in the past.
Lalu challenges Patna HC order
New Delhi, October 24
Union railway minister Lalu Prasad Yadav has approached the Supreme Court challenging the Patna High Court order directing his prosecution in a disproportionate assets case.
Meet of Indian origin MPs from West
Ability to address critical issues to determine India's place: V-P
New Delhi, October 24
In a first of its kind, Vice-President Mohammad Hamid Ansari inaugurated the first briefing programme for Indian origin parliamentarians from western countries emphasising that in the final analysis India's success in addressing challenges like dehumanising poverty or struggles for survival would "determine our place in the world".
Indian nationals in California safe: Govt
New Delhi, October 24
All Indian nationals in southern California, which has been struck by fires for the past four days, are safe and the Indian consulate in San Francisco is in touch with the members of the Indian community there.
Antony asks armed forces to adapt to changing times
New Delhi, October 24
Defence minister A.K. Antony today asked the top commanders of the country's military might to change their mindsets to ensure transparency and fairness in purchases of military hardware.
Army outwits militants on 'employment' dollop
Guwahati, October 24
The militant outfits' tactics in Assam of recruiting cadres with bait of 'employment' has now found a strong contender in the form of the Army and state government's thrust on rehabilitation and making the villagers self-reliant.
IAF carrier of Prez, PM turns 60
New Delhi, October 24
The IAF's communication squadron, the official carrier of the President, Vice-President, Prime Minister, visiting heads of the states and a host of other dignitaries today turned 60 with eyes on modernising its fleet with the addition of new jets, including Boeing Business Jet.
N-Deal
Chandrababu meets Bardhan
New Delhi, October 24
A day after the Left parties and the United National Progressive Alliance resolved to adopt a common approach on the nuclear deal in Parliament, Telugu Desam Party supremo N. Chandrababu Naidu visited the CPI headquarters to further consolidate the initiative.
Wadia institute celebrates Dobhal's success
Dehra Dun, October 24
Named as one of the global environment champions in recognition of his unrelenting study of glacial mass in the Himalayas making innovative use of bamboo sticks, Dr D.P. Dobhal, a glaciologist at the Wadia Institute of Himalayan Geology, here.
Rizwanur may have committed suicide: Wife
Kolkata, October 24
Priyanka Todi, widow of Rizwanur Raham, told CBI officials that she had not given any thought to returning to her in-law's house at Tiljala at this stage. She said she did not know what future laid ahead of her.
40 juvenile inmates flee from remand
Patna, October 24
On a day when judiciary was perhaps at its best by punishing lawbreakers across the country, the administration in Bihar apparently faltered, with over 40 juveniles, charged with various crimes, including robbery and stabbing, fleeing from the Gaighar remand home in the state capital during the past 24 hours.
Ronen Sen summoned
New Delhi, October 24
India's ambassador to the US Ronen Sen, who made the controversial "headless chickens" remarks to describe those opposing the Indo-US nuclear deal, has been summoned before the Privileges Committee of the Lok Sabha on October 29 and of the Rajya Sabha on November 2.
Year's brightest, biggest full moon on Oct 25, 26
Mumbai, October 24
Sky gazers can enjoy the "biggest and brightest" full moon of this year on Thursday and Friday due to its closeness to the earth. "This week's full moon (October 25/26) will be biggest full moon of 2007," NASA experts said.
Dhoni highest taxpayer in Jharkhand
Patna, October 24
Mahendra Singh Dhoni not only makes his state proud by leading Team India. He is now reportedly the highest individual income tax payer in Jharkhand with the income tax department expecting around Rs 4 crore from this youth icon of India.



Videos
Non-bailable warrant issued against Aamir.
(56k)
Leopard dies after rescue exercise.
(56k)
Vamping guitars for world record.
(56k)
Crucial weeks ahead for John Abraham.
(56k)