Friday, October 26, 2007, Chandigarh, India
Updated at 3:00 am (IST)

SC: Register all marriages
Sets 3-month deadline
New Delhi, October 25
The Supreme Court today gave three months' final deadline to the states and Union Territories to frame laws to make the registration of marriages compulsory, as a majority of them have failed to comply with its earlier order of February 2006 in this regard.



Nation page: Muslim leaders welcome SC order
Gujarat genocide was planned: Tehelka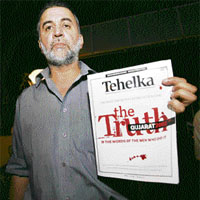 New Delhi, October 25
In what could become a major embarrassment for Gujarat Chief Minister Narendra Modi on the eve of assembly elections in the state, Tehelka, on the basis of a series of sting operations, today claimed that Gujarat 2002 was "not a spontaneous swell of anger but a planned genocide".
— Tarun Tejpal, Tehelka editor-in-chief
Time for give and take, says China
Harbin (China), October 25
China today for the first time publicly said that "mutual concessions and adjustments" were a must to reach an early deal on the vexed boundary issue with India for which the two governments have set up a working group to prepare a framework agreement.