Monday, October 29, 2007, Chandigarh, India
Updated at 3:00 am (IST)


Hiccups in Karnataka


JD(S), BJP try to mollify Prakash
* BJP claims support of 125 MLAs
* Kumaraswamy carts MLAs away
Bangalore, October 28
With dissident Janata Dal (Secular) leader M.P. Prakash emerging as the only hurdle in the formation of a BJP-JD (S) government in Karnataka, the Gowda family today tried unsuccessfully to mollify him and also persuaded its Chief Minister-aspirant and senior BJP leader B.S. Yeddyruppa to bring him around.



Editorial: Endgame in Karnataka

Shots fired at Mamata
Nine killed in fresh Nandigram violence
Kolkata, October 28
Three gunshots were fired at Mamata Banerjee's vehicle while she was proceeding to Nandigram village around 3 pm today.

Tribune's Bathinda edition launched
Bathinda, October 28
The Bathinda edition of The Tribune was launched by the Punjab Chief Minister, Mr Parkash Singh Badal, at a largely attended function here this afternoon. The edition will be circulated in the Malwa belt in Punjab, Haryana and Rajasthan.



Bathinda page: Printing press starts operations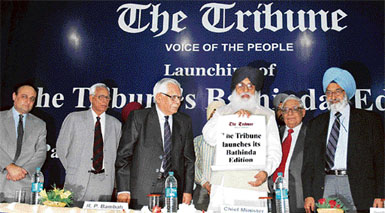 The Punjab Chief Minister, Mr Parkash Singh Badal, launches the Bathinda edition of The Tribune in the presence of (from right) Justice S.S. Sodhi, Mr H.K. Dua, Dr R.P. Bambah, Mr N.N. Vohra and Mr Sanjay Hazari at Bathinda on Sunday. — Tribune photo by Pardeep Tewari