Programmed living
Sangita Sharma Phukan
Life is about reaching out and making lives comfortable. Information Technology is the modern- day vehicle to provide that cozy drive to people and making their lives simple and comfortable. Software programmers are the brains behind this great service to humanity. These programmers or engineers, as they are called, code and encode programmes on the computer to create the most enchanting solutions for our everyday needs.

Careercature
Sandeep Joshi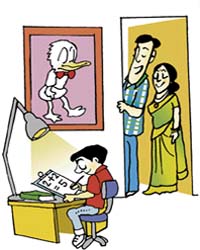 Two and two is five. His performance shows he'll be fit for a career in sales.
Seaside story
Usha Albuquerque
Shipping is the means by which goods, sometimes passengers, are transported by sea from one place to another. It is an aspect of international trade, and forms the pivot of a country's commercial activities. Today, with countries importing and exporting commodities in bulk, such as oil, food grains, tea, machinery items, and even cars and other large items, much of this is transported by sea.

Corporate India zeroes in on classrooms
S.C. dhall
WITH the Indian economy growing at a high speed, the 'catch them young' mantra is gaining momentum in almost each and every industry, be it information technology, auto companies, retail or the banking sector. There is a growing need for talent in the information technology sector and leading players have realised that the shortage of skilled manpower can be met by collaborating with educational institutions to produce "ready graduates".

Bits & bytes
Andhra will have 8 m jobs by 2015
Andhra Pradesh will have 7.5 to 8 million new jobs to offer by 2015, which are likely to come from sectors like IT and IT Enabled Services (ITeS), textiles, engineering, tourism and health care, a study conducted by the Confederation of Indian Industry said in Hyderabad recently. Among the eight million openings, 4.5 million are likely to be skilled and highly skilled professionals, others would be unskilled human resources, it said.

Career Hotline
Law of change
Pervin Malhotra
Q I have been practicing as a lawyer for the last four years. I want to know what is the scope for Indian lawyers abroad, particularly in the UK? What sort of remuneration do they get?
— Gopal Mendiratta
US law firm hires 6 new attorneys for India

Interest in IGNOU

Fair chance

Sea of options

Pray, is there a place for me?

Integrated MBA