Screen shock: 29 inch TV turns out to be 27
Jalandhar, November 1
Fascinated by the advertisements published in newspapers, a Kapurthala resident bought a 29-inch Samsung TV set for Rs 20,150 from a dealer near Namdev Chowk here in 2005, but, to his astonishment, when measured the display screen size turned out to be just 27 inch.

Anger management, Sahil style
Jalandhar, November 1
Class XII student of CT Public School here Sahil Kumar had always been an aggressive boy, difficult to manage at home. As he grew up, he himself realised his problem and wanted to channelise his energy in a positive manner. He started taking training in kickboxing and in two years' time, he has achieved good results.
— Sahil Kumar is U-19 kickboxing champ.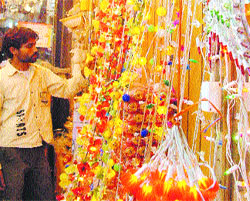 This Divali, celebrations will come with strings attached
Jalandhar, November 1
Getting decked up in the best of apparels, exchanging gifts and playing crackers is all that the basic Indian expects at Divali. The people of India celebrate the festival for their respective reasons but the basic thread that binds us all to the festival is the flood of lights that it brings with it.

'Laris' to add sparkle to festivities.
— Photo by S.S. Chopra

RCF coaches for science express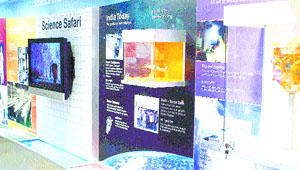 Kapurthala, November 1
Adding another feather to its cap, the Rail Coach Factory (RCF) has manufactured the coaches for the science express exhibition train, inaugurated jointly by Prime Minister Dr Manmohan Singh and the chancellor of Germany on Tuesday in New Delhi.



Inside story
'Ishq' brings Amarinder, Shinda together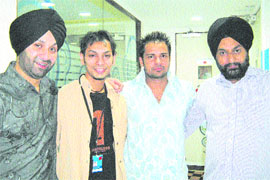 Jalandhar, November 1
Youngsters dance to their tunes and their music is life of dancing floors. These two young Punjabi singers have made their identities known within a short span of their existence in the Punjabi music industry. "Dildariyan" fame Amarinder Gill and multi-faceted Sukshinder Shinda were in the city on Wednesday for the music release of their new album "Ishq" at Big 92.7 FM studio.
Teaming up. — A Tribune photograph
SAD govt anti-Punjab, says Dal Khalsa
Phagwara, November 1
Dal Khalsa has termed the SAD-BJP government as anti-Punjab and accused the Shiromani Akali Dal to be playing in the hands of the Bharatiya Janata Party.
Say it with flowers
Besides attractive gifts on special occasions, the florists are offering more than 60 varieties of petals to the consumers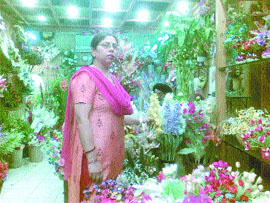 Jalandhar, November 1
When a ray of hope, a bond of love and passion of romance come together in a single flower, it makes everyone feel cosier. And to pamper you with all such feelings, the city florists have not only come up with lots of varieties but also added several other items, including candles, divas and greeting cards in their kitty.


For A Rosy Start: Choose from a wide array. — A Tribune photograph

Young World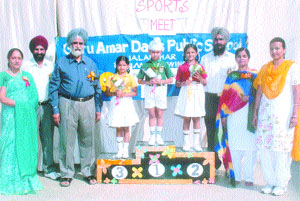 Tech feast on LIT campus
Jalandhar, November 1
Scientific presentations and demonstrations, followed by an entertaining evening, marked the annual technical festival of Lovely Institute of Technology, "Gyan Manthan 07". The chief guest of the day was Dr Pawan Kapoor, director, Central Scientific Instruments Organisation (CSIO), Chandigarh.
Young achievers of Guru Amar Dass Public School with the mentors. — A Tribune photograph

Watch this theme for a dream
Jalandhar, November 1
Theme for a dream, an exhibition showcasing a new dimension to the lifestyle industry, will be held on November 3 and 4 at Hotel Radisson. Brainchild of two women entrepreneurs, Reeti Singh and Nikku Sehgal, the event will bring together the group of designers and industry leaders to promote the lifestyle industry.