Seasoned performers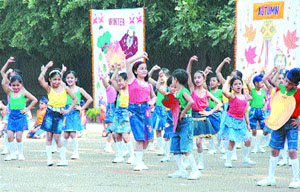 A dance show on the theme of seasons by students of Senior Study School enthralled many in Amritsar on Friday. — Photo by Rajiv Sharma
D-day preparations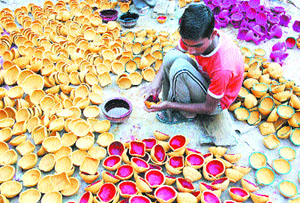 A boy gives final touches to diyas in Amritsar on Friday. — Photo by Rajiv Sharma
Centre giving cold shoulder to Punjabi: Writers' body
Amritsar, November 2
Despite being at the helm of affairs in the state for a number of occasions, the Shiromani Akali Dal has not done much to ensure a recognised regional language status to Punjabi.
This directory delivers more than just numbers
Amritsar, November 2
Residents of Shaheed ML Dhingra Housing Complex (GT Road) have found an easy way to know their neighbourhood better.
Curing cancer, ultrasonic way
Amritsar, November 2
An ultrasonic device was used for the first time in Punjab for the removal of cancerous brain tumour of a patient at the Escorts Heart and Super Specialty Institute here, said neurosurgeon Dr Raj Kamal.
DPS exhib
Displaying scientific temper
Amritsar, November 2
Delhi Public School organised a science exhibition at its Science Park here in which as many as 250 students showcased their innovative models based on about 30 themes.
Season show enthrals audience
Amritsar, November 2
Students of the local Senior Study School in the cantonment area here presented a spectacular field show based on all seasons, which has been chosen as the theme for various school activities for the year 2007-08.

Shah Mohammad fair from Nov 13
Amritsar, November 2
The fourth international Shah Mohammad fair will be organised by the Shah Mohammad Memorial Charitable Trust on November 13 on the common land of three villages of Wadala, Veerum and Bhoma on the grounds of Government Senior Secondary School.
Shah Mohammad
From 'Dildarian' to 'Ishq', Gill on a song
Amritsar, November 2
Amritsar's lad Amrinder Gill, who had shot to fame with his hit album "Dildarian", is back with his new album "Ishq", which is a continuation of his association with music director Sukhshinder Chhinda.
Road show
Amritsar. November 2
A road show was organised by "Proline Fitness", an American fitness equipment company at district shopping centre, Ranjit Avenue and opposite Khalsa College.