Elusive tenements
Ambika Sharma finds that in the absence of clear-cut guidelines, housing clause for economically weaker section remains just on papers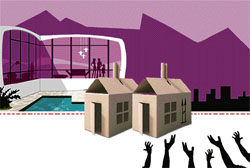 WITH the industrial workforce swelling to nearly one lakh in the Baddi-Barotiwala-Nalagarh industrial area, provision of housing for the economically weaker sections (EWS) has failed to catch the fancy of both the realtor as well as the worker. The overtly high rentals ranging between Rs 2,000 and Rs 24,000 continue to act as a deterrent for the workforce leading to their frequent migration to and from different states of Bihar, Uttar Pradesh, Uttaranchal and Chhattisgarh.
IIlustration by Gaurav Sood
An area dotted with agents
Sanjeev Singh Bariana chances upon a small residential spot in Ludhiana from where nearly 100 property dealers run their business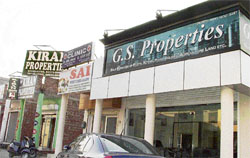 STREETS of Basant Avenue, located next to Dugri across Sidhwan canal, appears as if it just rained property dealers in less than 300 acres residential area. There are more than 100 property dealers operating in the small residential area that lies on the outskirts of the city limits. A majority of them are registered dealers, operating from independent well-furnished offices. The open space and the well-planned infrastructure has made the locality an attractive venture for investors in property. — Photo by Inderjeet Verma
Zirakpur mall bags award
Pradeep Sharma
ZIRAKPUR, township of shopping malls and apartments, continues to create ripples in the real estate sector. Even as the township on the strategic Chandigarh-New Delhi and Chandigarh-Shimla highways readies to wake up to the shopping mall culture, one of its shopping mall-cum-multiplex - Paras Down Town Square - has bagged the Indian Property Awards, 2007.
Manesar
On realtors' cross hairs
Presence of big industrial houses and investments in SEZ is attracting builders, says R. Suryamurthy
AFTER playing a pivotal role in the commercialisation and urbanisation of the country, metropolitan cities have begun to lose some of their sheen. Crumbling infrastructure, unrealistic land prices, overcrowding and choking pollution levels have taken a heavy toll of cities like Mumbai and Delhi, stripping them of traditional charm and attractiveness.
GRound Realty
Showcase the staircase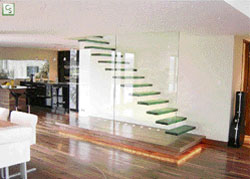 Try stones on treads and stainless steel railing as support,
suggests Jagvir Goyal
IN residential units, stairs have no more remained a mere mode of access to the upper storeys. These add real splendour and stateliness to a house when located thoughtfully and decorated aesthetically. Often, space constraints are the enemy in their planning. Also special care has to be taken against their being slippery while choosing the finishing materials. Here are a few guidelines:
Construction boom catalyses chemical industry's growth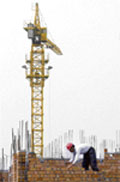 Construction chemicals, which were almost non-existent in the Indian construction industry 10 years ago, are gaining increasing importance. Surging construction activity and 100 per cent FDI in real estate are giving a fillip to the construction chemical market in India, which grew by an estimated 24.1 per cent in 2006. Any company that realises the importance and potential of this nascent market - projected to grow at a compound annual growth rate (CAGR) of 21.9 per cent from 2007 to 2013 - can capitalise on considerable growth opportunities. New analysis from Frost & Sullivan, Indian Construction Chemicals Markets, finds that the market revenue was estimated to be Rs 10 billion in 2006 and is likely to reach Rs 40 billion by 2013.
VLOR to manage buildings online
New Delhi: Delhi-based online building monitoring and management services provider, Vipul Laing O'Rourke (VLOR) has signed MoU with Imdaad, a part of the Dubai World Company, as a part of global expansion plan. Under the agreement, VLOR will set up an online monitoring and response centre (OMRC) for facility management of buildings in the UAE. "The services will be applicable across a variety of buildings within the ambit of Imdaad, including existing and legacy buildings, those under construction, residential buildings, shopping malls and hotels," VLOR director Parikshit Roy said. — PTI

TAX tips
By S.C. Vasudeva
Loan not advisable against gain bonds
Q. I sold plot of land in January 2007 and after indexing the cost of such plot and a long-term capital gain of Rs 10 lakh has been earned thereon. I had purchased the requisite tax saving bonds within the period of six months of the date of transfer of the plot. I am in need of money. Can I offer these bonds to bank as a security for obtaining a loan? Will it have any effect on the taxability of the capital gain earned on the sale of the plot about which I have sought an exemption?
— R.S. Kathpalia, Ludhiana