COLUMNS



THIS ABOVE ALL

GOOD MOTORING

AUDIO SCAN

MUSIC ZONE

WEBSIDE HUMOUR

FOR CHILDREN



CROSSWORD

RHYME TIME

ROOTS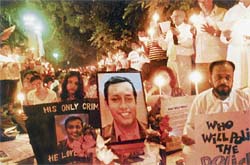 FIGHT FOR JUSTICE: Kolkatans have been holding candle-light vigil for a fair probe into Rizwanur's death
Murder of love
A rich Hindu girl falls in love with a poor Muslim boy. Their fairy-tale romance could have ended with the happily-ever-after tag. But, sadly, that was not to be. About a month after their wedding, which was strongly opposed by the girl's parents, the boy was found dead. Subhrangshu Gupta relates the tragic love story of Priyanka Todi and Rizwanur Rahman, which is now being investigated by the CBI
"Papa, please give her the line, I want to talk to her…," the caller pleaded.
But there was no answer. The line was disconnected. Soon another attempt was made on another number. But no one responded. The caller tried a new number and a hoarse female voice answered: "Kaun?" "Mummy, please give her the phone just once, I will just say a few things only…." There was no response from the other side, the receiver was simply banged on the cradle.
Computer games do kids good
Playing computer games may not always slacken kids' performance at school, for a study has found that children who play computer games before going off to school get better grades than those who don't play such games. In the study conducted at the St Columbia's Primary in Dundee, a group of Primary 5 and 6 pupils played for 20 minutes on Nintendo's handheld DS console at the start of each day which showed 'dramatic' advancements in the classroom after gaming for 20 minutes before the lessons began.