Murder of love
A rich Hindu girl falls in love with a poor Muslim boy. Their fairy-tale romance could have ended with the happily-ever-after tag. But, sadly, that was not to be. About a month after their wedding, which was strongly opposed by the girl's parents, the boy was found dead. Subhrangshu Gupta relates the tragic love story of Priyanka Todi and Rizwanur Rahman, which is now being investigated by the CBI
"Papa, please give her the line, I want to talk to her…," the caller pleaded.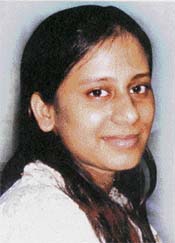 Priyanka Todi, a victim of parental pressure
But there was no answer. The line was disconnected.
Soon another attempt was made on another number. But no one responded.
The caller tried a new number and a hoarse female voice answered: "Kaun?"
"Mummy, please give her the phone just once, I will just say a few things only…." There was no response from the other side, the receiver was simply banged on the cradle.
The desperate caller then tried to contact the first person again. "Papa, please let me hear her voice for the last time. Five minutes from now, I will live no more."
This time also there was no answer.
These were allegedly the last phone calls to the Todi family in Kolkata on September 21 by the young and handsome graphic designer, Rizwanur Rahman, who fell in love with Priyanka and married her under the Special Marriage Act, 1956, on August 18. The Todi family, however, did not approve of their daughter's marriage to a commoner and a Muslim to boot.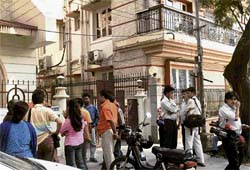 A CLOSE WATCH: Mediapersons outside Todi residence. The CBI has been interrogating members of the Todi family
On September 21, around 10.30 in the morning, Rizwanur's body was found on the railway track near Dum Dum station. Earlier in the day, at 10.10 am, Association for Protection of Democratic Rights (APDR) chief Sujato Bhadra received a phone call from Rizwanur with a request for help with the legal process of getting back his wife Priyanka, who was forcibly confined to a room in the Todis' lavish Salt Lake residence.
The previous day, too, Bhadra had received a written request from Rizwanur for filing a writ petition in the high court against the forcible confinement of his wife after she was taken back to her parental home for a week with the help of senior policemen. She was taken away on the pretext that her father, Ashok Todi, had suffered a major cardiac attack.
Bhadra has now handed over the copies of Rizwanur's written requests to the CID and the CBI, which is investigating the case.
On September 8, Rizwanur and Priyanka had their last meeting at Deputy Police commissioner Gyanwant Singh's room in Lal Bazaar police station, where Ashok's younger brother Pradip was present to sign the paper for taking Priyanka with him to the Todi residence.
During the next few days, Rizwanur and Priyanka could talk to each other over the cellphone and they exchanged pleasantries and enquired about members of their respective families. Then on September 14 night, Priyanka's cell phone suddenly went inactive. The following day Priyanka was scheduled to return to the Rahman family's Tiljala Lane house as per the agreement, but she did not.
Rizwanur frantically made attempts to talk to her on the phone over the next few days, but failed. He phoned Ashok Todi and his relatives on their landlines and mobiles. But none responded.
On the contrary, he started getting threatening calls from Lal Bazaar police station and elsewhere, asking him to cut off his ties with Priyanka or face dire consequences. Twice or thrice, policemen came to his residence from Lal Bazaar as well as from the local thana, advising him to "settle" the "dispute" with Ashok Todi and divorce Priyanka. Some persons acting as middlemen also met members of the Rahman family and advised them to reach a settlement with the Todi family and return Priyanka to her father.
But Rizwanur did not respond. His family members, friends and well-wishers also did not suggest that he should divorce Priyanka. They felt that she truly loved Rizwanur and had voluntarily accepted the new life at the Tijala house where she had spent over a week after their marriage.
Unable to get in touch with his wife, Rizwanur decided to seek legal help. He sought advice from lawyers, and the APDR. Hounded by threatening calls, a frightened Rizwanur left his house and started living at his aunt's (mother's sister) house to avoid harassment from Lal Bazaar cops and threats from goons allegedly hired by the Todis.
For the next few days, Rizwanur spent a very anxious and restless period. He used to wake up early in the morning and go out. He would return to his aunt's place late in the night after spending the whole day outside. His aunt and uncle had no idea where and how he spent the day but say that he always looked depressed, worried and anxious.
On September 21, Rizwanur woke up early and made some calls from his cellphone. He then had a bath, a small breakfast and hurriedly left the house for the day… and never returned. Around 10.30 am, Rizwanur's body was found on the railway track.
Rizwanur's mysterious death separated the newly married Hindu-Muslim couple forever. Society had accepted Priyanka-Rizwanur's marriage but the Todis had not. And thus a true love story ended in a tragedy.
The couple did not get the opportunity to lead a happy married life since the Todi business family did not approve of the marriage. To the Todis, the difference in the social status between the two families was harder to ignore than the issue of religion. The rich business family was not ready to accept the boy from the lower middle-class family as their son-in-law. Priyanka, however, willingly accepted him as her husband. Their love for each other went beyond matters of caste, creed, religion and social status.
Their love story began after Priyanka's admission to Arena Multimedia Centre on Chowringhee Road, where the young Rizwanur was working as a teacher. Rizwanur, who belonged to a poor Muslim family, had struggled for existence and received free education at St Lawrence's High School and St Xavier's College, Kolkata, because of his academic excellence. He graduated from there with honours in English in the late 1990s. Later, he equipped himself with graphic designing and IT courses and joined the multimedia centre, where Rizanur found, among several others, the rich Todi daughter Priyanka as his student.
It was, however, not love at first sight for Rizwanur and Priyanka. Initially, Rizwanur treated Priyanka like any other girl student. It was Priyanka who got attracted by Rizwanur's handsome looks, poise and his witty and friendly way of talking. Priyanka confided her feelings to her close friends, who gradually conveyed them to Rizwanur. The Hindu girl and the Muslim boy soon came close to each other.
For over a year, Rizwanur and Priyanka could be seen together in the institute's lab, working on graphic designing, page-making and other programming processes. Sometimes, they would go to Metro cinema to see an English movie or they would spend their evenings at the riverside. Gradually, Priyanka became a frequent visitor to the Rahman family's single-storeyed house in the Tiljala basti.
Initially, Priyanka was hesitant to take Rizwanur to her palatial residence. But later as their bond grew stronger, she took him home and introduced him to her family as her teacher. Gradually, the teacher got a contract of designing with Ashok's "Lux Gangee" company. This made it easier for Rizwanur to visit the Todi house. Priyanka also got the opportunity to see Rizwanur often as she found it unbearable to let even a day go by without seeing him.
Rizwanur disclosed his love for Priyanka to his mother, brother, relatives, friends and colleagues. Priyanka, however, did not tell her family about her feelings for Rizwanur and their decision to get married. She thought she would divulge everything to them after the marriage.
On August 18, the Muslim boy and the Hindu girl married under the Special Marriage Act to which Rizwanur's few close friends and colleagues were signatories. After the marriage, Priyanka went back to the Todi family and Rizwanur continued with his work at the multi-media centre.
After a few days of this arrangement, Priyanka decided to live as Rizwanur's wife in his house. Rizwanur's mother Kishwar Jahan acknowledged and accepted them as a couple but she feared the consequences of a Muslim boy's marriage with a rich Hindu girl. When Priyanka informed her parents about the marriage, they were not ready to accept her decision.
Soon Ashok Todi and his brother rushed to persuade Priyanka to get out of Rizwanur's clutches. When they failed to persuade her, Ashok approached the city police chief, Prasun Mukherjee, to help him solve his family problems. He reported to him that his daughter had been kidnapped by the Muslim boy who had forcefully married her. Mukherjee engaged his two trustworthy lieutenants, Gyanwant Singh and Ajoy Kumar, at Lal Bazaar police station to make the Todi daughter go back to her parental home.
Then followed a series of meetings at Lal Bazaar in which the couple and their relatives and friends were called. Both Priyanka and Rizwanur declared to the police that they were legally adults and had married willingly. Priyanka told the police that she had willingly come to her in-laws' residence and she would not return to the Salt Lake house. But she was taken to the Todi family for a week to meet her father (who had suddenly suffered a cardiac attack) by the police on the condition of getting her back to her in-laws' house.
But once she left the Tijala house, she was kept "imprisoned" in the Salt Lake house and she became a helpless prisoner of the circumstances. Rizwanur disclosed his predicament to his friends and well-wishers and wrote a note to Sujato Bhadra prior to his death on September 21. Bhadra later officially acknowledged Rizwanur's note and handed the copies of the note to the CBI, which has been inquiring into the tragic story of the Hindu-Muslim couple.
Initially, the state government refused to take cognizance of the allegation that the police has done away with Rizwanur at the instance of the Todi family.
But civil society in Kolkata did not allow the government to leave the case to the CID and forget the matter. Men, women, youth and schoolchildren came forward to protest against what they believed was the police's complicity in Rizwanur's death.
It, ultimately, forced the Chief minister to visit Rizwanur's mother to condole the death of her son. Not only that, the case was handed over to the CBI and the police officers concerned were transferred out of Kolkata.
The CBI has swung into action. Interrogation of the Todi family members and the policemen involved in the case is just one of the steps the premier investigating agency has taken. Kolkatans believe that the CBI will be able to unravel the mystery and haul up the guilty before a court of law. They believe that there was a conspiracy in the murder of love, if not that of Rizwanur Rahman.