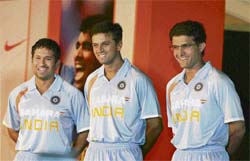 The same yardstick for selection needs to be applied for Sachin Tendulkar (left), Rahul Dravid (centre) and Sourav Ganguly
No place for bias
The selectors should not adopt a double standard while judging the performance of Team India's veterans, writes Abhijit Chatterjee
When former skipper Rahul Dravid was dropped for the last match of the one-day series against Australia, it spoke volumes about the mindset of the national selectors, especially Mumbai-based chairman Dilip Vengsarkar. The message was loud and clear: "Mr Dependable" of Indian cricket was being phased out. He could no longer take his place in the one-day squad for granted.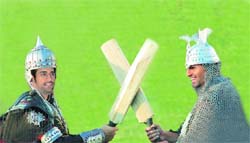 PITCH BATTLE: There is little to choose between the teams led by Mahendra Dhoni (left) and Shoaib Malik, who are themselves proven match-winners
It's 50-50
Vikramdeep Johal
The last time India took on Pakistan in a full-fledged series, held in early 2006, the teams were led by Rahul Dravid and Inzamam-ul-Haq. The two stalwarts won't be there when the arch-rivals clash in the first one-dayer on Monday. The former has been forced to take a "break", at least for a couple of matches, while the latter has already bid farewell to international cricket.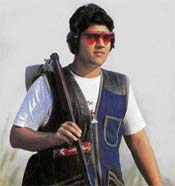 Chandigarh skeet shooter Smit Singh has been selected for the Asian Championship to be hosted by Kuwait in December —Tribune photo by Vicky Gharu
IN THE NEWS
Crack shot
Akash Ghai
Shoot at sight" is his motto. Within three years of taking up skeet shooting, Smit Singh has become adept at hitting clay pigeons with regularity. This 16-year-old Chandigarh boy has been selected for the Asian Shooting Championship to be held in Kuwait from December 3 to 13. Only four shooters have been picked from the junior circuit, the others being Man Singh, Sorab Singh and Sheraj. "I hit 110 out of 125 targets during the trials for the Asian meet. Now I am gearing up for a preparatory camp to be held in New Delhi later this month," says the crack shot.
Railways right on track
M.S. Unnikrishnan
Two national records, created by Babu Bhai in 20km walk and Sudha Singh in 3000m steeplechase, and Amarjeet Singh's upset win over Ranjith Maheswari in triple jump were the notable feats in the recent 47th Open National Athletics Championship at Jamshedpur, which also produced a slew of meet records.
Sameer Mon (left) of Services sprinted to victory in the 100m race; Railways' Preeja Sreedharan completed a 5,000m-10,000m golden double at the 47th National Open Athletics Championship in Jamshedpur recentl. PTI photos