Back of the book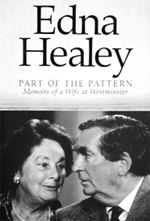 Part Of The Pattern
Memoirs of a Wife at Westminster
by Edna Healey
Headline Review. Pages 304. £3.25
Edna Healey has been married to Denis Healey for over 60 years and has seen parliamentary life from the inside, both in power and opposition. An accomplished historian and film-maker, Edna forged her own career as a writer, lecturer and broadcaster while her husband rose to become Chancellor of the Exchequer. Edna travelled with him, meeting many of the world's leaders; she has known all the Labour prime ministers from Attlee to Blair and writes about them with great insight and candour. She retains strong links with her birthplace in the Forest of Dean and the engagingly evocative chapters on her early life and its lasting influence make moving reading. This is a telling memoir of someone who moved in influential circles inside Westminster and beyond and knew many of the people responsible for shaping our world post 1945.
Lost for words
by Lorelei Mathias
Pages 311. £11.99
Sweet-natured Daisy, assistant at a large publishing house, has two wishes in life. One, to discover the 'next big thing' in books — a hidden literary gem in her slush pile of scripts — and two, for her gorgeous, philandering boyfriend Miles to finally commit.
Life starts looking up when the thoughtful and witty Elliot Thornton comes into her work for a temporary placement. Daisy quickly forms a close friendship with him. But she'd never want to leave Miles for him, would she? Then, one day, while glancing through a stack of manuscripts, she comes across the intriguing first pages of a novel. With spine-tingling excitement she emails the mysterious author straightaway and as chapter by chapter slowly filter through to her, she becomes completely spellbound. But somehow, there's something very familiar about the heroine and her story....
An enchanting romance about a girl who knows she's in love — she just doesn's know who with.
Born in Buckinghamshire in 1980, Lorelei Mathias studied English and Philosophy at Birmingham University beore travelling and working abroad. She now lives in London where she has worked in both publishing and advertising. Her first novel, Step on it, Cupid, was published in 2006 and she is also one of the contributing authors to Common Ground by 26, a collaborative group of people passionate about words.
The blood of flowers
by Anita Amirrezvani
Pages 377. £11.99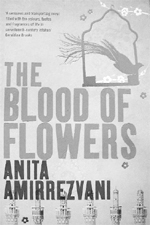 Once there was a girl who could make glorious carpets from wool tinted with the essence of orange safflowers and pomegranates... In rural Iran, a spirited girl approaches the age of marriage, only to find her destiny shattered after a comet blazes ominously across the sky. On the death of her father, she and her mother travel to the fabled city of Isfahan. Taken in as servants by her uncle, a well-to-do carpet designer, and his demanding wife, they confront an unforgiving world.
When the heroine blossoms as a brilliant maker of carpets, the future brightens. But then an impetuous act results in her disgrace, forcing her into a secret marriage. She must rely on her artistic genius, and her extraordinary will, to save herself and her mother.
Seventeenth-century Iran comes in all its splendour and cultural nuance in this luminous novel. Against a backdrop of bustling bazaars, fragrant gardens and exquisite teahouses, The Blood of Flowers tells the unforgettable story of one woman's struggle to create a life of her choosing.