Give the old their due
As India greys at a rapid pace, its senior citizens bear the brunt of the changing socio-cultural scenario. Many face isolation and lack the resources for a better quality of life. To ensure that senior citizens get their due, the Maintenance and Welfare of Parents and Senior Citizens Bill, 2007, will be introduced in the winter session of Parliament. Aditi Tandon examines the provisions of this legislation


Senior Citizens Bill
A senior citizen (60 years or above), including a parent who is unable to maintain himself, can claim maintenance from progeny.

Parents can apply against children; childless senior citizens against relatives who are inheritors of their property.

Children/relatives to maintain parents so that they can lead normal lives

Applications to be made to maintenance tribunals to be set up by the state

Tribunals to have the power of civil court, decide applications in six months; provision of mediation before proceedings

District Judge to head Appellate Tribunal; sub divisional officer to head maintenance tribunal

One-month jail for children who don't pay maintenance; three-month jail for children who abandon parents

Old age homes in every district; medical care of elderly in government hospitals

Tie-ups with police to ensure protection of life and liberty of the elderly
Agony of age

Most severely isolated are those over 75, particularly widowed older women
India had 12 million old in 1901, 10 million in 1951, and 17 million in 2001; by 2025 numbers will be 177 million.
90 per cent of old are from unorganised sector, with no social security at 60.
30 per cent are below poverty line, 33 per cent marginally over it.
80 per cent live in rural areas; 73 per cent are illiterate.
55 per cent women over 60 are widows, many without support.
India has 200,000 centenarians, right now
There are no straight answers to many problems faced by the elders, given the complexities of elders' abuse in India. Bearing the brunt are 82 million elderly, so conditioned to subservience that they won't voice their pain. Four out of 10 elders in India reportedly face abuse, but only 1 case out of 6 is reported, says HelpAge India, which recently interviewed 500 elders in Delhi and Mumbai.
It found that loneliness and isolation were the scourge of many old people's lives. The aged were overwhelmed by the new concepts of time and space and nuclear families and found it virtually impossible to cope with the "I-me-myself" generation they had reared.
HelpAge findings only confirm the psychological pressures of urban existence the elderly face – in the survey more than 12 per cent said no one cared if they existed; 13 per cent felt trapped in their own homes; 21 per cent barely socialised. Most respondents, HelpAge found, were being mistreated by their children and spouses.
Adult children are the largest perpetrators of elders' abuse in India (47.3 per cent), followed by spouses (19.3 per cent), relatives (8.8 per cent) and grandchildren (8.6 per cent).
If one thought that disease was the most depressive factor in old persons' lives, think again—neglect is the foremost form of exploitation the elderly face (48.7 per cent), followed by psychological trauma (35.4 per cent), financial exploitation (30.2 per cent), physical abuse (25.6 per cent cases) and abandonment (3.5 per cent).
Grim picture
Better medical care and low fertility have made the aged the fastest-growing section of our society, so much so that while in France it took 120 years for the gray population to double from 7 to 14 per cent; in India it doubled in just 25 years. So where are these elderly living. Certainly not with families which are shrinking fast. By the 1981 census, the average number of people per Indian household was 5.5; by 1991 it had declined to 5.1; today it is 4. HelpAge findings show that currently 11 per cent of India's elderly are living alone or with non-relatives; by 2025, 25 per cent of those above 60 years and 40 per cent of those above 75 years would be living alone.
Lest they die, as they lived (in isolation and poverty), a napping government has woken up to the challenge. The first Central Bill on care of the elderly is expected to be tabled in the winter session of Parliament.
Introduced in the Lok Sabha in March this year, the proposed law draws upon the Himachal Pradesh Maintenance of Parents and Dependents Children Act 2001, the Hindu Adoption and Maintenance Act 1956 and the Criminal Procedure Code 1973, which provides for partial maintenance to the elderly (Rs 500 a month). This Bill, however, goes beyond CrPC by providing Rs 10,000 as the maximum monthly maintenance to senior citizens. Born out of the need to remind children of their responsibilities towards the old, it also has built-in provisions for punishments for those who don't pay and those who abandon parents. The latter can face three months in prison or Rs 5000 fine, or both.
By definition, the law seeks to "provide for more effective provisions for the maintenance and welfare of parents and senior citizens guaranteed and recognized under the Constitution`85" Section 4 details its eligibilities: "A senior citizen including a parent who is unable to maintain himself from his own earning or property shall be entitled to make an application for maintenance under Section 5."
While a parent or grandparent can apply against one of more of his children, a childless senior citizen can do so against a relative who's to inherit his property. "The obligation of children or relatives to maintain a senior citizen extends to the need of such a parent so that he may lead a normal life," states the Bill, under which applications for maintenance can be made to the maintenance tribunal either directly by a senior citizen, and if he's incapable by a person or organisation authorised by him.
The Bill also provides for apportioning the maintenance among children of the applicant. It further mandates settlement within six months of the making of an application. But before the proceedings in maintenance tribunals begin, a senior citizen and his children can consider "mediation" through a conciliation officer, the proposed law provides. This provision, most observers feel, is likely to be misused in India, where parents live under constant fear or obligation of their wards.
Mathew Cherian, head, HelpAge India, hails the bill as timely and well-intentioned but says certain aspects need clarification for it to become a major instrument for the protection of the old. "There is need to compel the progeny to care for their old parents. This should be rephrased in the Bill considering it offers provisions for mediation," Cherian says, adding that the law should define each category of persons from whom an elderly can claim maintenance, and state who will pay in what proportion.
Old vs young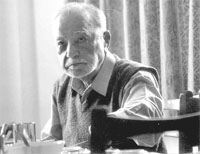 Maintenance from children will soon be a right for the aged. — Photos by HelpAge India
The law must also deal more strictly with children settled abroad, considering that in 70 per cent court cases which parents file against children, the latter don't easily turn up. In any case, in the fight between the old and young, the young have a natural edge.
Dehradun-based Jagdish Sharma (78) shows how. He has been fighting a court battle with his estranged son for long now. A regular at hearings despite his illness, he has never met his son in court. "The court has now issued bailable warrants. Let's see if he comes. He cheated me of Rs one lakh," alleges Sharma, residing in a rented house, with his ailing wife. They've exhausted their savings, while their four sons live separate lives. Incidentally, Sharma is also struggling since two years to get a case registered against his eldest son who, he alleges, assaulted him in 2005.
"I wrote to Meira Kumar, the Minister for Social Justice for help but she didn't reply. Do you think such authorities would be serious about a Bill? In any case, this Bill is not workable in India, where corruption precedes laws and where parents are traditionally expected to forgive children's sins," says Sharma. Most elderly agree, citing India's social mores as major deterrent to the
success of the Bill.
"In a country where the old find it hard to even report abuse, it's foolish to expect such tribunal proceedings. A system of financial and social security funded by the state would be better. In any case, most elderly are ailing. They will barely have the energy to pursue maintenance applications. As regards authorising others, who can one trust when not one's own children?" asks Rukmini Devi, 85, from Malout in Punjab. Her only son usurped the property her husband left. Today she suffers from TB and faces a bleak future.
Social security
Because most old persons are in similar situations, they prefer social security nets with pension schemes and reverse mortgages. This, they say, is better considering self-respecting people wouldn't want to use the law, which will anyway remain lost in delays and red tape. Some policy analysts agree. They also say the state, by enacting this law, is ignoring its own responsibility towards the old.
The Constitution states in the directive principles (Article 41): "The state shall, within the limits of its economic capacity and development make effective provision for securing the right to work, to education and to public assistance in cases of unemployment, old age, sickness and disablement`85"
"The Bill sidesteps this directive; it does state that governments may establish old age homes, but it doesn't mandate the same. Even without the law there was never a prohibition on states from providing old age homes," M.R. Madhavan, Centre for Policy Research, observed in a recent critique of the Bill, which has many loose ends.
It says an older person can apply if his income is inadequate to provide for his basic needs including (but not limited to) shelter, food, clothing and medical requirements. Clear definition of these categories is missing, leaving the law open to abuse by unscrupulous elements. All it says is – "children are obliged to maintain a senior citizen to the extent that he may lead a normal life". What is "normal life" is not stated.
Another problem is with the clause governing the establishment of tribunals. Firstly, the Bill doesn't mandate the setting up of tribunals by states. Section 7 says, "The state government "may" constitute for each subdivision one or more tribunals`85" There is no obligation to do so. Further, the Bill requires the tribunal to be headed by a sub divisional officer – a significantly burdened man. Similarly, it designates a district judge as the appellate authority, ignoring the backlog of cases in Indian courts. In Punjab and Haryana High Court alone, 241579 cases were pending as on September 30, 2006; the numbers for district and subordinate courts were 561919.
Now about certain definitions in the Bill that are confusing. Senior citizens are defined as any person being a citizen of India, who has attained 60 years or above and includes parents whether or not a senior citizen. This implies that every parent, including those below 60 years, is eligible to apply under the law.
New provisions
Likewise, relative means any legal heir of a childless senior citizen who is not a minor and is in possession of or would inherit his property after his death. "How does one determine who would inherit property?" asks Madhavan: "Does this mean the senior citizen has to reveal the contents of his will and does not have the freedom to change it later. If he is allowed to change it, consider the case of a person who is initially named in the will, forced to pay maintenance, and then disinherited."
HelpAge is also skeptical of some provisions, especially of the proposal that any person, who after the enactment of this Act, has transferred a property on conditions that the transferee will provide for him, and such transferee refuses to do so, then such a transfer would be deemed to have been made by fraud and shall, at the option of the old person, be declared void by the Tribunal. "Under what provisions of law will this be governed? If new provisions will be enacted, they must be specified," Cherian says.
Another blind spot is chapter IV, which deals with the provision of medical care to the aged. It states: "States shall ensure that government hospitals have beds for senior citizens and facility for treatment of chronic diseases`85." But Janaki Devi, 75, an old age home inmate in Chandigarh wants to know if she can sue the hospital for non-compliance. She, like others, is also jittery because the Bill disallows legal representation to parties.
As the debate rages, one finds it hard to ignore the Indian set up and undue pressures it creates on people. In any case, 80 per cent beneficiaries of this proposed law live in villages, 73 per cent are illiterate and can only engage in physical labour. Given the situation, it's unlikely that an old villager will abandon his routine to travel to a faraway city .
The charm of monthly maintenance may be big. But it is not bigger than that of daily wage, which comes after a long day at work. Ninety per cent of India's elderly still toil their way through the unorganised sector every day, just so they can hoodwink hunger. Pain of empty stomachs, after all, is the only pain the elderly can avoid.