Class Apart
This Diwali think beyond mithai, crockery, dry fruits and wall hangings. Purva Grover helps you get started
IF the thought of what lies beneath the boring gift boxes wrapped up in equally mundane paper drives you away from Diwali gifts, then this is a must read. But before you read on, run through this gift quotient test: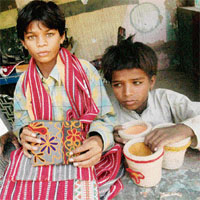 Thoughtful Splurging
Letís splurge with a difference this Diwali. We toured the town, met some of the cityís less-fortunate spirited souls and came back with unbelievably beautiful and more than affordable heartening creations. And, lest you label it as charity, letís tell you itís called thoughtful splurging. So hop aboard our shopping wagon!





Photo by Vinay Malik
A Sweet Surrender
High on taste & style, cookies, chocolates, cakes are reigning over city foodiesí tastebuds
| | |
| --- | --- |
| That we love to bite into ghee-dripping pinnis and besan laddoos is no secret. And the fact that this temptation gets a boost each festive season too is well known. Whatís new is that this Diwali barfi and laddoo boxes are giving way to baskets loaded with cookies, chocolates and cakes. Hereís a roundup on whatís pleasing the palate this season. | Itís that time of the year again when sweet cravings can be satisfied without guilt. The city foodies are already making a beeline to the sweet shops to take their pick from the endless colourful mithais on offer. And, the shops too are doing their bit to make sure that you take home more than just the sugary delights. This season the stress is on both taste and packaging. |
Win the pot
Lakshmi puja, lighting lamps and bursting crackers is what we associate Diwali with. But there is another age-old custom that is as essential a part of diwali as all others Ė playing cards. On the eve of Diwali clubs and houses are full of those who would want to welcome the goddess of wealth into their homes.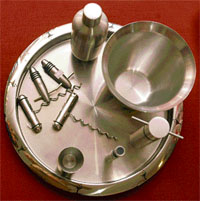 Poetry in Steel
Clean lines, smooth, sensuous contours! Before you get the wrong idea, thatís stainless steelware we are talking about. Catch the beauty in a photo frame, artistry in a coffee cup, ingenuity in a desk clockÖwhere the strength of steel blends with the delicacy of fine china, glassware and ceramics in a surge of innovative creativity. These works of art in stainless steel are sure to lend class, dignity and sophistication to any decor. So do not rush to the nearby crockery shop to buy that the same olí boring stuff for this Dhanteras that falls on November 7 this year.

Brace yourself!
Diwali is about having fun, but one should not forget that safety is as important. Run through the safety measures with us. Cracker burn? Donít panic. Keep the wound under running water for 20 - 25 minutes. Donít apply toothpaste, flour dough, oil etc, instead apply Soframycin.

Bhattís Up?
It came as quite a shock, refreshing though, to see Mahesh Bhatt, a man omnipresent in almost all social debates with his strong views, whistling at Shabana Azmi as the latter gyrated to Beedi jalaile... sung by tellevilleís eternal saas Apara Mehta for Jhoom India (a realty show, what else!).

Conquering new highs
A ten-and-a-half feet marigold plant. Yes, itís a fact. This plant has beaten all other plants of its species and attained this surprising height. The plant stands tall at its caretakerís home, six-year-old Sarthak Mago.

Matka chowk
Perception of City Beautiful
On my latest trip to the East Ė Bhubaneswar and Kolakata Ė I decided to take a public opinion poll on Chandigarh, a city, visited by few living in North India. These are some of the remarks I thought worth noting down.

Film & Fashion
Wax statues mauled
Madame Tussaudís staff learnt a valuable lesson recently - never let women get too close to even the wax statues of George Clooney or Brad Pitt.

Song of the soul
He comes back twice a year with his latest collection of songs ó a tradition that he has been following for the past 34 years. This year too is no exception. S. Rakesh, whom we know as the Thodi thodi piya karo man, is ready with a bouquet of 15 songs that he has penned down in the last few months.

Thinking about decorating the house on Diwali but donít want the bills run into thousands? Well, spice up your house and make it look festive without burning a hole in your pocket with some easy do-it-yourself tips. Aman Minhas tells you how
Drape festivity
If your curtains look elegant then do not need to change them. Just take them off and ...
# Place some newspapers on the floor, spread the curtains on them and just stick sequins the size of a 25-paisa coin at random on for a starry effect.

ROCK the night
Despite the growing anti-cracker campaign, there is no dip in the popularity of crackers and they continue to fascinate young, old and children alike. The market is abuzz with a huge variety of crackers, hereís a quick check on the cityís cracker scene.

Worshipped in India, made in Spain, 99.9 per cent silver idols indeed have followers in the city, says Saurabh Malik
CHINA is not the only one waging a commercial war to emerge victorious on the religious front in India. Spain, too, has jumped into the combat zone with a bang just before the explosive festival of Diwali. Idolised always for fine and fashionable craftsmanship, the country has religiously flooded the market with immaculate little idols of Indian gods and goddesses. Thatís right, folks! You have danced to the beats of Spanish music. Now, itís time for you to faithfully worship the workmanship involved in meticulously crafting idols, that also of native deities.