PUNJAB

HARYANA

JAMMU & KASHMIR

HIMACHAL

REGIONAL BRIEFS

NATION

OPINIONS

MAILBAG

BUSINESS

SPORTS

WORLD
Monday, November 5, 2007, Chandigarh, India
Updated at 3:00 am (IST)

Emergency: Day II
500 held in Pak crackdown
Opposition leaders, lawyers in line of fire
Islamabad, November 4
In a major crackdown, Pakistani security agencies today rounded up opposition leaders, lawyers and human rights activists and put under house arrest sacked Chief Justice Iftikhar M. Chaudhry amid speculation that President Pervez Musharraf may defer the January elections.



New CJ overrules Chaudhry's order


World page: Zero-tolerance for those defying orders


Lawyers call for strike on Monday


Editorial: The darkest hour


| | |
| --- | --- |
| | Policemen arrest civil rights activists, who were marching towards ousted Chief Justice Iftikhar Muhammad Chaudhry's residence during an anti- Musharraf protest, in Islamabad on Sunday. — AFP photo |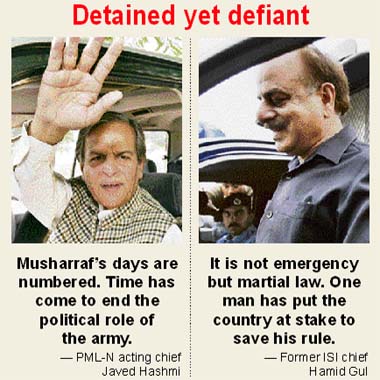 CAST YOUR VOTE
Should all 'encounter' deaths be re-examined?

ADVERTISEMENT


CHANDIGARH

LUDHIANA

BATHINDA

JALANDHAR

DELHI

HIMACHAL PLUS

HARYANA PLUS

AMRITSAR PLUS

LIFESTYLE

BRIDES WANTED

GROOMS WANTED

OTHERS

HOW TO PLACE ADVTS

Eyewitness provides leads into Rizwanur's death
Kolkata, November 4
In an unexpected twist to the controversy over Rizwanur Rahman's death, a garment dealer has claimed to have witnessed the kidnapping of a man barely an hour before the computer graphic teacher was found dead.
Karnataka: JD(S) drops conditions
To give 'unconditional' support to BJP
Bangalore, November 4
In the continuing game of political brinkmanship in Karnataka, former Chief Minister H.D.Kumaraswamy today announced that his party would give "unconditional" support to the BJP to form a government in the state.

HOROSCOPE

E - Revolution 2005:
A Two-day IT conclave

Assembly Elections - 2005

Turbans

Chandigarh is 50

125 Years of The Tribune
India: The Tasks Ahead

EARLIER FEATURES
Karuna's poem for slain LTTE leader sparks row
Chennai, November 4
Tamil Nadu Chief Minister M. Karunanidhi's poem in praise of slain LTTE leader S.P. Tamilselvan has sparked off a controversy, with Opposition leader and AIADMK supremo J. Jayalalithaa charging him with violating the Indian constitution and demanding his dismissal.



We'll not forget or forgive Rajiv killers: Cong
Sinha wants 123 pact, Hyde Act amended
…but fails to clear confusion in BJP over N-deal
Chennai, November 4
Bharatiya Janata Party's prominent pointsman on Indo-US nuclear deal and former external affairs minister Yashwant Sinha today ruled out support to the 123 agreement unless it was amended along with America's Hyde Act.
CWC to meet ahead of AICC session
New Delhi, November 4
The Congress Working Committee is meeting here on Wednesday to review preparations for the All India Congress Committee meeting scheduled here later this month.


HP VOTES
Distribution of party ticket
Himachal Congress leaves it to Sonia
New Delhi, November 4
True to party tradition, Himachal Pradesh Congress Election Committee today passed a one-line resolution authorising party president Sonia Gandhi to select candidates for the assembly elections in the state.
Emergency in Pakistan
November 4, 2007
Court orders FIR against Pawar
November 3, 2007
Meltdown? Consensus possible, says CPI
November 2, 2007
Suddenly, Left pours respect on PM
November 1, 2007
Not end of N-road: PM
October 31, 2007
Balle Balle: Bulls take Sensex to 20K, make Mukesh Ambani richest
October 30, 2007
JD(S), BJP try to mollify Prakash
October 29, 2007
Naxal attack in Jharkhand
October 28, 2007
Arrest Modi, Advani: Lalu
October 27, 2007
SC: Register all marriages
October 26, 2007
Law catches up with killers
October 25, 2007