M A I N N E W S

Mush Under Siege


Pak lawyers' protest spreads
Get back to civilian rule quickly, urges Bush
Afzal Khan writes from Islamabad

Pakistan's military ruler General Musharraf today went all out to crush resistance from judges, lawyers, political parties and civil rights activists, who took to the streets across Pakistan to protest against the imposition of emergency.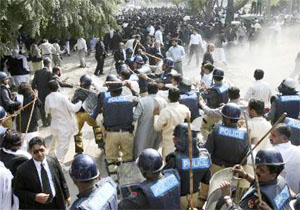 Policemen used batons against lawyers outside the High Court in Lahore on Monday. Lawyers were protesting against President Musharraf imposition of emergency in the country. — Reuters
The police and para-military forces used batons and lobbed teargas shells to disperse protesters at the rallies held by lawyers and political workers in major towns, including Islamabad, Lahore, Karachi, Rawalpindi, Peshawar and Quetta. Dozens of protesters were injured in the crackdown.
(A report from Washington said US President George W. Bush has urged Musharraf to quickly return to civilian rule and release people detained, White House spokeswoman Dana Perino told reporters. "The President and his advisers... are urging him to quickly return to civilian rule, to get back on the path of democracy," she said. At a news conference in Ramallah, West Bank, secretary of state Condoleezza Rice said Musharraf should leave his military post and that the country should move towards elections under the constitution.)
Denouncing the imposition of emergency, Pakistan's sacked Chief Justice Iftikhar M Chaudhry has vowed to launch a fresh struggle for restoration of Constitution and rule of law in the country. "Everything that is happening today is illegal, unconstitutional and against the orders of the Supreme Court," the 59-year-old dismissed Chief Justice told 'The News' daily over telephone last night.
Meanwhile, lawyers boycotted courts all over the country though state-run PTV claimed that shut down in Quetta and few other towns was "partial". Lawyers' organisations announced the boycott would continue.
At least 200 lawyers were arrested in these towns and over 1,000 political workers were picked up from rallies in major cities following up on earlier crackdown on the first day when as many as 1,500 activists, including members of civil rights organisations, were nabbed.
Authorities also put defiant judges of Supreme Court and provincial high courts under house arrest and prevented them from proceeding to the courts to perform their judicial duties. Despite massive pressure and temptations, majority of judges have refused accept their dismissal or to take fresh oath of allegiance to the Provisional Constitutional Order (PCO) promulgated by General Musharraf.
The biggest protest demonstrations were held in Lahore and Karachi where security forces clashed with lawyers who responded to shelling and baton charge by pelting stones.
In Lahore more than 2,500 lawyers and supporters broke security cordons and came out of high court premises to demonstrate on main city boulevard. Journalists covering the event were also beaten up.
In Karachi, lawyers forced their way to the heavily cordoned Sindh High Court and raised slogans against Musharraf. The police broke open the doors of the Bar Association office in Karachi and whisked away lawyers, including two women, in vans. Among those detained were Salahuddin Ahmed, the son of former Chief Justice Sabihuddin Ahmed of the Sindh High Court, who has opposed emergency.
There were protests also in front of smaller district courts in Islamabad and Rawalpindi by groups of lawyers. Some 30 lawyers were arrested in Islamabad and Rawalpindi. Some journalists were detained near a court in Quetta.
In Peshawar, lawyers blocked the office rooms of judges in courts. All access roads to Supreme Court in Islamabad were blocked by barricades and barbed wire.
Rana Bhagwandas, a Supreme Court judge who refused to take oath under Musharraf's proclamation of emergency orders, said he has been locked inside in his official residence in Islamabad and that the other judges were being pressured to support the government.
The weekly media briefing in the Foreign Office, located on the opposite side of the road from the Supreme Court, was cancelled because entry to Constitution Avenue has been restricted.
A feverish campaign led by attorney-general Qayyum Malik and provincial governors failed to entice more judges to take fresh oath under the PCO. The Supreme Court presented a deserted look with only four judges headed by newly appointed chief justice Abdul Hameed Dogar out of 17 reporting for duty. Lawyers have declared they would not appear before these judges. Justice Dogar cancelled the roster of all cases fixed for this week.
The fifth judge who has also taken oath is admitted in hospital in Karachi. There were no lawyers or clients. A total of 43 out of 93 judges of supreme and high courts have so far taken oath. They have supported the ruling of seven-member Supreme Court Bench headed by Chief Justice Iftikhar Mohammad Chaudhry declaring the emergency and the PCO illegal. Justice Dogar has declared that this ruling has no validity because all seven judges had already been deposed.
The clamp down on electronic media continued for the third day with all private news channels remaining off air. Press organisations have condemned the two new draconian laws promulgated after imposition of emergency to curb press freedom.