COPS in the air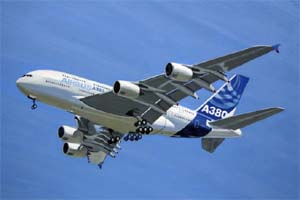 Usha Albuquerque
Recently, two aircraft almost had a collision while one was landing and the other departing from Delhi airport. While we yet do not know the cause of the near mishap, it did highlight the highly critical role played by the traffic policeman of the skies - the air traffic controllers. The volume and complexity of today's air traffic has put pressure on all services - airline services, runway space, technical services, and many others. But by far the most critical is that of the air traffic controller. Monitoring all ground movements of aircraft, take-offs and landings, handling approach control monitors for approaching and departing traffic, and en route control requires skillful control by highly trained staff.

Careercature
Sandeep Joshi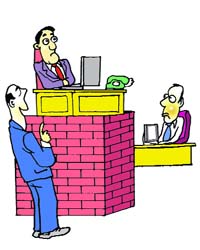 Didnít I promise to give you a 25 per cent raise this Divali?
Managing juniors
I.M. Soni
A good boss knows his long-term objectives, and how to achieve them. He is a good tactician who knows how to initiate and take advantage of what follows from his initiatives. If he is a good manager of people, he gets the best out of them, especially his juniors. But if he is bossy, he loses respect. Respect is deserved, not demanded. He knows how to direct them, to win their loyalty and how to fire their motivation.

BRITAIN BECKONS
THE British Library, Chandigarh, recently organised a seminar on "Study Opportunities in the UK." To conduct the seminar, the library invited education expert Aprajita Kalra, Manager Education UK, British Council, New Delhi, to update the interested candidates with first-hand information on education in Britain.

HRO market to grow in 2008
Handling human assets
Outsourcing of human resources functions is expected to increase in 2008 after remaining relatively flat since 2005, a study says. "The cumulative total contract value of human resources outsourcing (HRO) transactions reached USD 21.2 billion in 2006 and is expected to be USD 25.4 billion by the end of this year," according to the study by the Everest Research Institute.

Game to plug the gap
Lack of skilled manpower in animation, gaming
A shortage of trained professionals could impede the progress of the country's animation and gaming industries, which, otherwise possesses a tremendous potential for growth, a report said. "A growing demand-supply gap in manpower requirements could act as a dampener to both these industries, preventing them from achieving their full potential," a Nasscom report released in Mumbai said recently.

Bits & bytes
Research route
THE Indian School of Business (ISB), Hyderabad, and the Department of Management Studies, Indian Institute of Technology (IIT), Madras, recently signed up for promoting academic research at the masterís and doctoral levels. Professors and academicians from both institutions will also collaborate on joint research projects and publish their research in internationally reputed academic journals.
KPO training centre mooted

Job exchanges to go online

Career Hotline
Account ability
Pervin Malhotra
Q I am pursuing my CA and I want to know about the prospects of Indian CAs abroad. Is it recognised or not? What is their weight age abroad and can they compete with the CAs from abroad?
ó Janki Vyas
Electrifying choice

Enter the Dragon, should I?

Value for money

France woos Indian students