Managing juniors
I.M. Soni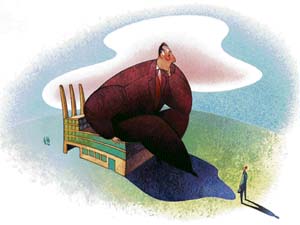 A good boss knows his long-term objectives, and how to achieve them. He is a good tactician who knows how to initiate and take advantage of what follows from his initiatives. If he is a good manager of people, he gets the best out of them, especially his juniors. But if he is bossy, he loses respect. Respect is deserved, not demanded.
He knows how to direct them, to win their loyalty and how to fire their motivation. If he does not, he suffers and so does his organisation.
The most intricate problem for the boss is dealing with subordinates. Within the organisation, the problem is acute because he has to establish new relationships with former colleagues. He has gone up the ladder, others are where they were.
As a boss, you hope to retain their goodwill but from an unfamiliar position of authority. If you plunge as a newcomer, you still have problems. You have to be familiar with a new role. Also, a new set of individuals and surroundings.
If you are very lucky, you may get people exceptionally sporting and supportive. If not, you face a fraternity of half-hidden foes!
As a boss, you are willing to see things running amicably but none else is co-operating, much less being appreciative.
You plunge deep into thinking. How to gain the subordinatesí confidence without compromising your self-respect, or official authority?
You can begin by depending on past experience. Management, in essence, is treating others as you yourself would like to be treated. Do unto others as you would have them do to you.
Team work is essential. A team is a living, constantly changing, dynamic force in which a number of people come together to work to achieve specific goals.
A good boss shows some qualities ó strong and effective leadership, setting up precise goals and objectives, making informed decisions and the ability to act quickly on them.
He communicates freely, masters the needed skills and techniques to achieve his targets.
He finds the right balance of people prepared to work together for the common goal of the organisation. A team ceases to be a team if one member becomes dominant and domineering.
Go in reverse. Who was your boss? Was he effective or not? Think what he did, and did not. Now, of what pleased you or displeased you. This makes the line clear and distinct. You begin to think of good and bad. Some bosses were effective, others ineffective. Mark the areas. You learn a good lesson.
Now, the moral. Project the good and bad qualities you experienced to your present situation. You have a far greater chance of succeeding than otherwise.
Letís take an example. You liked the way your boss put his hand on your shoulder, asked you aside when he was facing some crisis and sought your opinion.
What was the result? You were bowled over. Those who saw the scene started battering that you were the blue-eyed boy of the boss. Result? You became his most ardent supporter.
Now, try the same principle when you are the boss. Follow the lines of the predecessors who won the hearts of others. You will get similar results.
This example leads to a significant pointer. You can make sure that those even in junior positions can be made to feel big and involved.
They start nursing the feeling that they belong to the organisation. That the boss knows them. That he values their worth.
Reward merit but do not let errors go unnoticed. Inform, inspire and implement.