BRITAIN BECKONS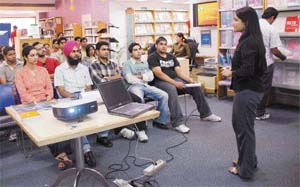 A seminar on study in the UK in progress at the British Library, Chandigarh, recently.
— Photo by Pradeep Tewari
THE British Library, Chandigarh, recently organised a seminar on "Study Opportunities in the UK." To conduct the seminar, the library invited education expert Aprajita Kalra, Manager Education UK, British Council, New Delhi, to update the interested candidates with first-hand information on education in Britain.
Emphasising on the authenticity of the qualifications from England, Aprajita informed the members that these qualifications are recognised and respected throughout the world. "These qualifications will act as a solid foundation for building one's future, boosting one's career and prospects for a higher salary."
The seminar aimed at familiarising the interested candidates about the eligibility criteria, what courses are available, how much they cost and how to apply, as well as how the quality of UK education is assured.
After the seminar, there were individual counselling sessions held for the interested candidates. Around 60 students attended the seminar.
The students expressed satisfaction with the information provided during the seminar. Ishita Gupta, a student of MCM DAV College, Sector 36, said, "I was really satisfied with the seminar which increased my knowledge about studying in the UK". Raj Bali, a student of DAV College, Sector 10, remarked that such kind of seminars should be held quite often in Chandigarh.
The future plans of the library include a major event like the Education UK exhibition on November 28 at hotel Taj. — TNS