HRO market to grow in 2008
Handling human assets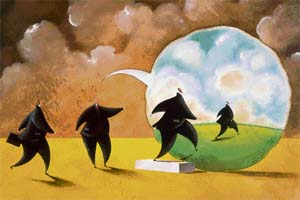 Outsourcing of human resources functions is expected to increase in 2008 after remaining relatively flat since 2005, a study says.
"The cumulative total contract value of human resources outsourcing (HRO) transactions reached USD 21.2 billion in 2006 and is expected to be USD 25.4 billion by the end of this year," according to the study by the Everest Research Institute.
Accenture, Convergys and IBM have gained significant HRO market share in terms of total contract value while Hewitt remains the market leader in terms of annual contract value, the study notes.
As buyers are deciding to move toward a componentised route, either in terms of scope of process or geographic scope, suppliers must have flexible offerings and contract terms to meet their requirements, Everest Research Institute Senior Research Analyst Rajesh Ranjan said.
At the same time, suppliers would need to ensure that their offerings are scalable so as to be the supplier of choice when buyers decide to expand their scope of outsourcing, Ranjan said.
Future HRO growth would contribute to existing suppliers decreasing transition costs and time frames, promoting standardised offerings at the same time, the annual report on HRO said.
While North American buyers account for more than 70 per cent of HRO transactions, Europe has seen increased deal signings over the past three years. Manufacturing, financial services and telecom are the leading buyers of overall HRO, as per the study.
Though North American and European companies would spark the growth, positive potential for Human Resources Outsourcing (HRO) would be recorded in all market segments, the study added.
Over the last three years, the global HRO deals market was flat due to the limited capacity of suppliers. However, the share of regional transactions has increased, especially for mid-sized companies of 3,000 to 15,000 employees, Monica Barron, Vice-President, Everest Research Institute said.
The HRO function is moving from lift-shift model, where the supplier takes over the buyers existing staff to transformation-transfer model in which standardised processes and technologies are implemented and provided by the supplier, the Everest study said. — PTI